Cillian Murphy And Thandie Newton Will Take The Retreat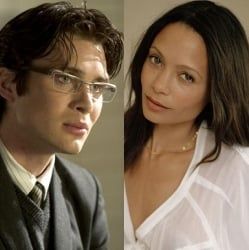 The entire cast of Inception can probably reasonably expect a career bump now that the movie is such a hit-- we've already seen how Tom Hardy is taking advantage of it-- but Cillian Murphy for now is sticking to his resolutely indie roots. Deadline reports he's signed on to star opposite Thandie Newton in The Retreat, a thriller about a couple renting a house on a remote island who encounter a soldier in a biohazard suit who tells them a virus has killed the rest of the planet.
The producer is describing it as "Knife in the Water meets Dead Calm," but if you're an intrigued American you might have a long wait to know more. Sony has picked up the UK rights and another studio is working in Germany, but there's no word of a U.S. distributor just yet. It sounds like exactly the kind of tiny, possibly spectacular British indie that will take forever to get here, so for now just watch Murphy in Inception again and keep those fingers crossed that you'll see his next act one of these days.
Your Daily Blend of Entertainment News
Staff Writer at CinemaBlend