The Coen Brothers' Next Film Will Be Hail Caesar With George Clooney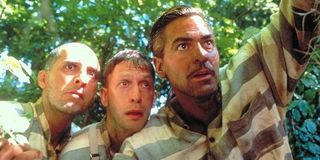 If you're a movie lover (or like-er), there's a chance a new film from the Coen brothers is an event. The duo have been responsible for some of the greatest films of this recent era. And their last, Inside Llewyn Davis, only solidified the Coens' considerable skill and reputation. Now they're going back to broad comedy, re-teaming with George Clooney for Hail Caesar.
Deadline reports that Hail Caesar is the next film for the prolific duo, with George Clooney attached to star. The script focuses on Eddie Mannix, a mover-and-shaker in the 1950's tasked with protecting the seedier and more questionable aspects of the lives of certain movie stars. This was a regular occurrence in the movie world in the 1950's, where some of the bigger stars of the era had plenty of dirty laundry that had to be taken out. You do see some of this in L.A. Confidential, where the handlers of movie star Matt Reynolds (a young Simon Baker) start to clean up after his death to keep hints of his homosexuality away from reporters like Danny DeVito's Sid Hudgens, who promised fans Hollywood gossip, "off the record, on the q.t. and very hush-hush." Geez, that was a great movie. Hopefully you've seen it!
This would be Clooney's fourth collaboration with the Coens. Their first, and most beloved, was O Brother, Where Art Thou?, an unlikely hit that found Clooney as escaped ex-con Ulysses Everett McGill, who accidentally becomes a folk musician star in his journey to see his estranged wife and kids. Later, he showed up doing classy screwball comedy in Intolerable Cruelty as the debonair but dimwitted Miles Massey, genius divorce attorney. And when they reunited a third time, Clooney was dopey former U.S. Marshal Harry Pfarrer, wrapped up in a ridiculous clandestine operation to leak government secrets. Maybe the twist of Hail Caesar is that Clooney gets to play a smart guy?
No word on whether this will be a lighter Coen comedy, or a nasty, R-rated drama with comedic undertones, though the report claims it is "comical." With the Coen brothers, that could mean the cartoon world of The Big Lebowski or it could be the fatalistic place that swallows up Gabriel Byrne in Miller's Crossing. Maybe it's a musical?
Regardless, Clooney's a busy guy, with next summer's tentpole Tomorrowland promising to be his biggest hit. He's also considering Money Monster as one of his upcoming movies, while producing and maybe directing films like the remake of the Norwegian thriller Pioneer.
Your Daily Blend of Entertainment News