George Clooney Remaking Norwegian Thriller Pioneer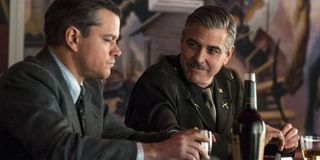 Few might realize that last year George Clooney won his second Oscar. While his first was earned with a superb supporting turn as an actor in the politically charged thriller Syriana, the second came courtesy of the producing credit he was owed for the creation of Best Picture winner Argo. Now, he and fellow winner/producing partner Grant Heslov are now gearing up for a new collaboration under their Smokehouse banner, and this one finds its inspiration a bit farther from home, Hollywood or Washington.
THR reports Clooney and Heslov are looking to produce a remake of the 2013 Norwegian thriller Pioneer. Sony is currently in talks to buy the remake rights for the project, which Sony's Elizabeth Cantillon will oversee. Clooney is attached to produce, but it is unknown if he plans to star and/or helm the feature as well.
The original Pioneer was directed by Erik Skjoldbjaerg and starred Norway's Aksel Hennie, as well as American actors Stephen Lang and Wes Bentley. Set during Norway's old boom in the 1980s, this conspiracy thriller follows two blue-collar brothers tasked with laying the pipeline in the North Sea. They are diving deeper than anyone has before when tragedy strikes, putting them at terrible risk.
Check out Pioneer's trailer below:
This seems a good fit for Clooney and Heslov, who seem to revel in stories of ordinary men in extraordinary situations that demand courage and composure to survive or prevail. (Think The Men Who Stare At Goats, Michael Clayton or The Informant!) Plus, as it deals in oil drilling, it's easy to imagine that Clooney was drawn in by the potential to make a political statement with the picture as he has with Argo, Ides of March and Syriana. Of course, considering the underwater work and presumably bearded heroes, it's easy to call to mind another Clooney vehicle, though not one he produced.
At this point, there is no word on if Skjoldbjaerg will be involved in the remake. Once the deal is closed on the remake rights, Sony will get to work seeking out a screenwriter to translate the Norwegian thriller into a movie better attuned to American moviegoers. We'll tell you more as this story develops.
In the meantime, Clooney can now be seen in theaters in The Monuments Men, which he produced, directed and headlines. Inspired by true events, the action-punctuated drama follows the misadventures of an unusual World War II platoon, which was tasked with rescuing priceless art from the hands of Nazis hell-bent on obliterating it. Matt Damon, Bill Murray, Cate Blanchett, John Goodman, Bob Balaban, Jean Dujardin, and Hugh Bonneville co-star. Read our review here.
Staff writer at CinemaBlend.
Your Daily Blend of Entertainment News
Thank you for signing up to CinemaBlend. You will receive a verification email shortly.
There was a problem. Please refresh the page and try again.