The Conjuring 2 Scares Up A Release Date, But Who Will Return?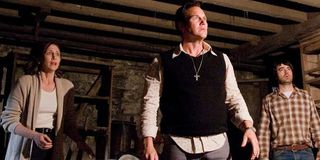 A surprise smash hit of last summer was The Conjuring. The James Wan horror movie was made for a lean $20 million, but took in a whopping $137 domestic, and $318 mil worldwide. Success like that practically mandates a sequel, especially in the horror genre where ghosts are everywhere and demons never die! Even before the film hit theaters, New Line clearly knew they had a winner, as they had already invested in getting a sequel developed. For months we heard nothing new about this proposed sequel, but now we've got updates on its cast, plus a release date of October 23, 2015.
Variety reports Patrick Wilson and Vera Farmiga have signed on to headline The Conjuring's sequel, reprising the roles of Ed and Lorraine Warren, the married couple who cover paranormal investigations as a team. At this time the sequel has neither an official title nor a director. Wan, who helmed the first film, is currently in the midst of making sense of Fast & Furious 7, the production of which was thrown into jeopardy following the tragic and unexpected death of its star Paul Walker. It's unlikely Wan will return to direct The Conjuring 2--as we'll call it until a definitive name is set down--but producers say he will be involved in some way.
As the Warrens are a particular interest of his, I'd suspect Wan pitched possible sequels before the first film hit. He spoke at length about them and their work at New York Comic Con 2012. However, there's been no suggestion where the Warren's story might lead next.
Inspired by the case files of the real Warrens, The Conjuring tackled one of their most famous investigations, that of a family plagued by malevolent spirits. Another noteworthy case is that of the haunted Annabelle doll. This served as a creepy intro in the first film, but this evil plaything is getting a full-on spin-off of its own. Could that mean The Cojuring's screenwriters Carey Hayes and Chad Hayes might follow the lead of the other major investigation they hinted at in the first film, that of The Amityville Horror?
Listen to the Warrens talk all about that case below:
For now neither New Line nor Hayes and Hayes will say where The Conjuring 2 will take the Warrens. But the scribes have interviewed Lorraine Warren (Ed died in 2006) to help inspire this unnamed sequel. So expect something chilling from the Warren's case files to emerge.
Your Daily Blend of Entertainment News
Staff writer at CinemaBlend.