Contest: Win Uwe Boll's Sword! Dungeon Siege Giveaway!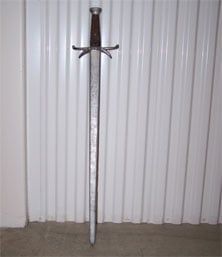 Some of you may have noticed that I've gotten a little lax on running contests lately. Sorry, I've just had a hard time working up the energy to give away yet another third rate DVD or another prize pack composed entirely of Alvin and the Chipmunks key fobs. But this one, I couldn't pass up.
We've been given an actual sword used in Uwe Boll's upcoming movie In the Name of the King: A Dungeon Siege Tale to give away. It's a prop straight off the set and, judging by the picture they gave us of it to your right, plopped down somewhere in Uwe Boll's funky apartment. Ok, that's probably not his apartment.
In case you haven't heard, In the Name of the King is the controversial Mr. Boll's attempt to translate the world of Dungeon Siege into a feature film. I guess you could call it his Lord of the Rings. Whether or not it'll be any good, who knows, but the cast is certainly a lot better than you'd expect. Jason Statham, Ray Liotta, John Rhys-Davies, Ron Perlman, and Burt freakin Reynolds star in it.
The sword itself is a prop, so don't expect something made out of metal. They wouldn't want to risk cutting Burt Reynolds in half with it. Apparently it's made out of some sort of pliable plastic. This is a real movie prop, not some aluminum replica. Below is a picture of it being used in the film. That guy in the helmet is holding it over Jason Statham's head:
Cool right? Well you can have it. It's yours. All you have to do is construct a time machine... because this contest is already over. Closed. Ended. Too late, someone else has already won and it probably wasn't you.
Additional Rules: Winners must live within the continental United States because we hate paying for international shipping. If you don't follow directions you won't win, even if you send me a sob story about how you're disabled, or have 15 children, or frittered away all your money on hookers and beer and you deserve to win one more than anyone else because your life sucks (you people know who you are). Well my life sucks too and I'm not getting free stuff! So keep all of that to yourself.
For more information on In the Name of the King: A Dungeon Siege Tale, I suggest going straight Uwe himself. Listen to what Uwe Boll had to say about his new movie to us, in our audio interview with the director.
Your Daily Blend of Entertainment News