Controversial New Details Emerge On Matt Damon's Promised Land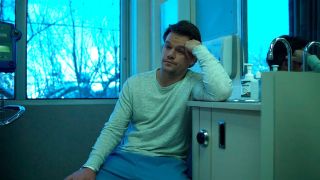 (Image credit: Warner Bros.)
Previously, details on the plot of Gus Van Sant's next feature The Promised Land had been a bit vague. The drama—which at one point had Matt Damon attached to helm—will star Damon as a businessman whose entire perspective on life is altered after moving into a small town. We knew that John Krasinski would play a rival executive and that the story was being described as "Capraesque," but even the announcement of Rosemarie DeWitt becoming the film's female lead revealed no new plot details.
However, now we have some idea why, thanks to Politico (via Vulture), which has uncovered the conflict at the source Damon and Krasinski's characters' rivalry: fracking. This controversial practice of hydraulic fracturing involves pumping a mixture of water, sand and chemicals into a well to fracture rock and thereby release natural gas. Proponents of fracking insist that the practice can create new income and jobs for suffering communities, but critics declare that the side effects of fracking are willfully overlooked and could hurt the environment and even poison nearby water sources. Notably, this was the topic of the recent Congressional hearing where anti-fracking advocate and Gasland director Josh Fox was arrested.
With this fracking detail, The Promised Land immediately has a new dimension. No longer just a drama about dueling business execs this will likely be a tale of ethics and political arguments. Damon himself is known for speaking out about various political causes, and is said to have contributed the script—with a first draft from Dave Eggers--along with Krasinski. Every aspect of this makes The Promised Land more promising. Since his Oscar win for Good Will Hunting, Damon has only earned one screenplay credit, and that was for Van Sant's semi-improvised 2002 drama Gerry. I'm eager to see what a collaboration between he, Krasinski who adapted Brief Interviews with Hideous Men, and Dave Eggers would look like.
Aside from co-writing Away We Go and Where the Wild Things Are--both movies I utterly adore—Eggers is a heralded author. Perhaps best known for A Heartbreaking Work of Staggering Genius, his personal memoir that perfectly captured what being twentysomething feels like, Eggers has gone on to create heartbreaking books based on the experiences of others including What is the What, which reveals the incredible life story of Sudanese Lost Boy, Valentino Achack Deng, and Zeitoun, which uncovers the harrowing tale of one family's experiences during Hurricane Katrina. Seriously, if you only read one book ever again, read Zeitoun; it's crushingly beautiful.
Basically, Eggers is an incredible writer who is able to mine real stories to create narratives that are entirely engaging and accessible no matter what your background. And like Damon and Van Sant, there is a real integrity and passion to all he does. So, with his base and the collaborative efforts of Damon, Krasinski, and Van Sant, The Promised Land is sure to be a powerful drama.
The Promised Land will begin filming later this month in Pittsburgh. The production is expected to run through June. A casting call will be held on Saturday, seeking "great character faces, farmer looks, senior citizens, baseball players, upscale men and women with formal wear, teens and kids."
Your Daily Blend of Entertainment News
Staff writer at CinemaBlend.