Could Hillary Rodham Clinton Be Getting A Biopic?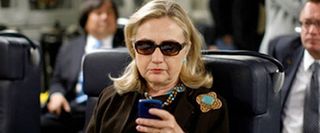 Just yesterday film executive Franklin Leonard revealed the 2012 Black List, a collection of unproduced new screenplays that have been deemed the very best circulating Hollywood. This year over 290 film executives voted by contributing a list of titles they felt worthwhile of the honor. While being on the list doesn't guarantee a film will be made, it definitely helps a screenplay get notice and earn buzz that could grease the wheels toward production.
This year 78 scripts made the cut, and at the #4 spot with 39 exec nominations is Rodham, a biopic that centers on Hillary Rodham Clinton back before she was the Secretary of State, Senator from New York, First Lady, or even Mrs. Clinton. Penned by Young Il Kim, this drama is set during the Watergate scandal of the 1970s, when Rodham was a fast-rising lawyer who was selected for the House Judiciary Committee to Impeach Nixon. She was the youngest lawyer chosen for the committee, and the prestigious assignment could have paved her way in Washington. But then there was her old boyfriend Bill Clinton, a total charmer teaching law in Arkansas, but looking to get into politics.
Slate spoke with Rodham's screenwriter, who has a background in economics and no produced screenplays to his credit. He explained that this moment in Rodham's life was a pivotal one. The span of the feature encompasses only six-seven months, but it was a time where her career was at a potential tipping point, and she "didn't know whether she wanted to be with Bill or not." At the time, Clinton was engaged in his first political campaign, running for the U.S. Congress. Choosing him would mean leaving D.C. for Arkansas. Intensifying the political backdrop of this personal story is that the Equal Rights Amendment, which was meant to guarantee equal rights for women, was fighting and flailing to be ratified.
Kim shared that he researched various sources to create his script, and Temple Hill is at work securing backing for the would-be biopic. As a public figure, Rodham Clinton need not give approval for the pic, so that's not an obstacle as far as getting the movie made goes. In fact, rumblings of her possible run for the White House in 2016 could mean that a movie about her early life would be more topical and enticing than ever before. Regardless of your opinion of this outspoken and oft-controversial politician, you have to admit she's fascinating. Plus, this is a pocket of her life that has gotten much focus. Color me intrigued.
Staff writer at CinemaBlend.
Your Daily Blend of Entertainment News
Thank you for signing up to CinemaBlend. You will receive a verification email shortly.
There was a problem. Please refresh the page and try again.