Of Course Betty White Is Being Crammed Into Men In Black III. Of Course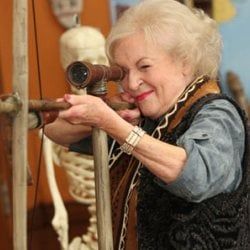 Observing the new industry standard that Betty White must at least be mentioned for any upcoming movie, TV show or rap album, Sony has apparently found a way to include her in the already-overcrowded Men In Black 3. According to Bloody Disgusting she'll put in a cameo as one character's mother. Given the complicated time-traveling plot of the film that could mean pretty much anything, but I'm betting she'll find a way into the backstory of Tommy Lee Jones's character-- he's already being played by Josh Brolin as a younger version, so there's plenty of age range there to play with.
Additionally Pussycat Doll Nicole Scherzinger has been offered the role of "Devil Girl," whatever that means, and Emma Thompson is still in negotiations to play "Agent Oh," confirming what we heard a few weeks back. Will Smith and Jones are already set to reprise their roles, and with Brolin, Jemaine Clement, Alec Baldwin, Gemma Arterton and Sharlto Copley all find their way in there too, it's surprising they're even making the time for a Betty White cameo. Then again, Men in Black III kind of defines "desperate cash grab," so it's no surprise they'd jump on the Betty White bandwagon without even a thought about whether it makes sense. I guess the best we can hope for is that this is the laziest casting we hear about today, but then again, it's early.
Your Daily Blend of Entertainment News
Staff Writer at CinemaBlend