The Craft: The Cast Then And Now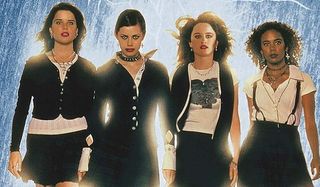 20 years ago this very day, Sarah Bailey met three very special girls at St. Benedict's Academy, and embarked on a magical journey. Though don't mistake the story of The Craft for a certain other tale involving a school of witchcraft and wizardry, as the story of Sarah, Bonnie, Rochelle, and Nancy is one of deceit, betrayal, and 90's fashion. Before Harry Potter even emerged from his cupboard, or the Mean Girls had their own legendary pop culture squabble, there was Andrew Flemming's 1996 summer blockbuster that had everyone whispering "light as a feather, stiff as a board" at slumber parties for years to come.
But where is the cast of The Craft today? Well, that's what we're here to find out today, as it's time to cross the void between Then and Now with key members of the film's cast. Thankfully, the internet is all the magic we need to learn just where our favorite 90's teenagers ended up, and the results may surprise you.
Without any further delay, let's see what the cast of The Craft has been up to in the past 20 years…
Robin Tunney
Robin Tunney's character, Sarah Bailey, is the only member of the coven in The Craft to actually be born with magical powers in their possession. In fact, it's through her membership that each girl eventually gains the strength to cast a spell linked to their deepest desires. It's also through Sarah's abilities that Fairuza Balk's Nancy is able to become the powerful menace that she eventually turns into, which only proves that Sarah's abilities are a blessing and a curse. The Craft was definitely a blessing for Tunney's career, as her roles in Encino Man and Empire Records had led her to this film's doorstep. While End of Days was Robin Tunney's biggest film role after The Craft, she did make a successful career in Television acting, landing major gigs as a cast member on both Prison Break and The Mentalist.
Fairuza Balk
Oh Nancy Downs. What can be said about this rage filled, yet delightfully evil girl that hasn't already been said throughout the two decades since her brief reign of terror? It's safe to say that The Craft was Fairuza Balk's breakout role, as American History X and The Waterboy would follow closely after Balk raised hell as everyone's favorite magical misfit. But her childhood held some interesting entries to her resume as well, as she played Dorothy in Disney's dark Wizard of Oz sequel, Return to Oz. Most appropriately, however, is the fact that she was the lead in the infamously bad Halloween special The Worst Witch, which also starred Tim Curry. Recent history saw Fairuza Balk in a three episode arc on Ray Donovan, which aired last year. Still, nothing beats the insane energy of Nancy and her misuse of magic, which led her to so many murderous acts, and her eventual insanity, due to being stripped of her powers.
Neve Campbell
Out of the four lead actors in The Craft, it was Neve Campbell that had yet to truly make a name for herself by time the magic started. Though by time Scream came out in December of that same year, Campbell would become a phenomenon that would go on to appear in the rest of the Wes Craven created franchise, as well as Wild Things and 54. But in The Craft, her role of Bonnie was equivalent to one of Nancy's lackeys, though her personality and performance rose above the fact that her character didn't have a proper last name, and kind of turned into a bitch once she removed her scars and became the beauty she wished to be. You can see Neve Campbell throughout season 4 of House of Cards, which came after some choice guest spots on Mad Men and Manhattan.
Rachel True
For three of our four coven members in The Craft, their film resumes lead to roles on hit TV shows later on down the road. However, in the case of Rachel True, who played Rochelle – the witch that had it out for a racist bully, the exact opposite was true. Before The Craft, True scored roles in TV hits like The Cosby Show , Beverly Hills, 90210, & The Fresh Prince of Bel Air. And while she did eventually end up in future TV projects such as The Drew Carey Show and Sharknado 2: The Second One, she did land one more role in a cult film classic: she played Mary Jane Potman, Dave Chapelle's love interest in Half Baked. He's lucky she didn't retain her powers at the end of the film, as the magic she wielded didn't look to pretty.
Skeet Ulrich
The pantheon of teenage heartthrobs from the 1990's would not be complete without legendary bad boy Skeet Ulrich. After playing bit parts in early classics such as Teenage Mutant Ninja Turtles and Weekend At Bernie's, Ulrich graduated much like Neve Campbell did. Meaning that the double whammy of The Craft and Scream put him on the top of the Teen Beat world. Admittedly, his role as the slimy, and ultimately dead, Chris Hooker, was much less harmful than that of Billy Loomis, but it's certainly no less memorable. Skeet Ulrich's career after The Craft would see him in movies such as The Newton Boys and Chill Factor, as well as a lead on such popular TV shows as Jericho, and some not-so popular TV shows like Law & Order: LA. But perhaps his crowning achievement, one he shares with another cast member on this list, is that of his recurring voice work on Robot Chicken.
Breckin Meyer
Comic relief is always needed in a horror - comedy such as The Craft, and that's just the sort of thing Breckin Meyer has exceeded in for quite some time now. His supporting role as Chris Hooker's friend, Mitt, came after his role as Brittany Murphy's love interest in Clueless, but just before he made it big with lead roles in comedies like Road Trip and Rat Race. Still, in honor of his comedic chops at such an early phase in his career, we'll breeze past his mistake of taking two Garfield movies, and land with his much more iconic work on fellow 90's icon Seth Green's Robot Chicken, much like on and off set pal Skeet Ulrich.
Christine Taylor
If any of the cast members of The Craft qualified for the title of seasoned veteran, then Christine Taylor would be the one to wear the crown. Not only did she manage to make a mark as bully turned victim Laura Lizzie in The Craft, but that was after knocking it out of the park on Hey Dude in the early 90's, as well as playing a pitch perfect Marcia Brady in The Brady Bunch Movie and its sequel. Of course, she made it out of The Craft with her hair intact, and with major roles in The Wedding Singer, both Zoolander films, and Dodgeball: A True Underdog Story in her future. Oh, and she happened to marry Ben Stiller, and star on Arrested Development as well. So you could say she's kept busy.
If you're not quite through strolling down 90s-Memory-Lane, check out The Craft's theatrical trailer on the next page.
CinemaBlend's James Bond (expert). Also versed in Large Scale Aggressors, time travel, and Guillermo del Toro. He fights for The User.
Your Daily Blend of Entertainment News
Thank you for signing up to CinemaBlend. You will receive a verification email shortly.
There was a problem. Please refresh the page and try again.