New DVD Releases: April 2015 In Home Entertainment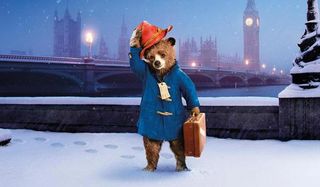 You would think we would be out of critically acclaimed movie contenders from 2014 at this point, but this month the studios are going to keep churning them out, with A Most Violent Year, Big Eyes and more headed into homes via Digital and Blu-ray releases. We've also got the well-liked Paddington movie and the home entertainment release of HBO's cool musical series Sonic Highways. There's a lot to look forward to in April of 2015, and you can check out more of this month's releases, below!
Want to know what came out last month? No problem, head here.
April 7
A Most Violent Year Blu-ray
Director J.C. Chandor is known for making slow-moving but compelling dramas and A Most Violent Year is no exception. Set in 1981 in New York City during one of the most tumultuous crime waves the city has ever faced, A Most Violent Year follows Abel Morales (Oscar Isaacs), a capable Similar to FX's The Americans, Morales' work bleeds into his home life, thanks in part to his wife Anna (Jessica Chastain) embracing the seedy underbelly of the business. Exchanges between Abel and Assistant D.A. Lawrence (David Oyelowo). Following this year's awards season, A Most Violent is headed to Blu-ray, and while Lionsgate Home Entertainment's set is nothing special, there are several featurettes (there's a commercial about curbing violence that seems a little out of place) and deleted scenes for fans, along with in-depth audio commentary that should be worth a watch for fans of Chandor's work (and those keeping an eye out for New York City landmarks). I wouldn't call it a must-own set, but I would call A Most Violent Year a must-watch movie. Order the Blu-ray now.
Other April 7 Blu-ray And DVD Releases
Happy Valley
Drop Dead Diva: The Complete Sixth Season DVD
Manhattan: Season One
Wilfred: The Complete Season 4
The Voices
Home Sweet Hell
Killers
Yellowbird DVD
April 7 Early Digital Releases
Big Eyes (April 3)
The Girl is in Trouble (April 3)
The Gambler (April 10)
The Voices
Cake
Foo Fighters: Sonic Highways
April 14
The Missing: A Starz Limited Series
Television watchers are very familiar with the concept of missing children, thanks to the numerous procedurals that populate television. Regardless, picking up years after the disappearance of a child is a more foreign concept, and Starz and Anchor Bay Home Entertainment's new release The Missing is both a thought-provoking and disturbing thriller following the case of a missing child named Olly (Oliver Hunt). In the aftermath, Olly's parents, Emily (Frances O'Connor) and Tony (James Nesbitt), split, and years later his father returns to the scene of the crime looking for answers. The angling of the story is engaging, shuffling back and forth between memories of the night Olly disappeared and then the days, weeks, and later years that came afterward. But what The Missing probably does best is dangle hope and clues in front of the audience like candy in a shop, at least until it reaches its bold conclusion. There's nothing like the BBC One series on TV right now, and fans should do well to catch it on Starz or with the brand new Blu-ray, which features a few short extras for fans, all conveniently located on the second disc. Order the set now.
Other April 14 Blu-ray And DVD Releases
Big Eyes Maps To The Stars
The Woman in Black 2: Angel of Death
Whitney DVD
The Missing: The Complete First Season
The Man With The Iron Fists 2
Little House on the Prairie: Season 5
Enter The Dangerous Mind
Echoes
Vengeance Of An Assassin
Bark Ranger DVD
Walker Texas Ranger: Flashback
April 14 Early Digital Releases
The Wedding Ringer
The Boy Next Door
Paddington (April 17)
Girls (April 20)
April 21
April 21 Blu-ray And DVD Releases
Taken 3
Cake
Everly
April 21 Early Digital Releases
Selma
Girls: Season 4
Looking: Season 2
Black Sea
Mr. Turner
Jupiter Ascending
April 28
Paddington Blu-ray
Paddington had a lot of bad buzz before it was released. The first trailer was not very well received by fans. Original star Colin Firth left the project very late in the process and was replaced by the far less famous Ben Whishaw. In short, it seemed like a hot mess, and then it was released and audiences fell in love. And with good reason! It's really delightful. It's full of heart, full of shenanigans and remarkably well put together by writer/ director Paul King. It's the type of movie people will watch for years to come, which makes it a particularly worthwhile Blu-ray purchase. The set is pretty decent too. Anchor Bay's Blu-ray/DVD/Digital release offers fans featurettes that follow the adaptation process, as well as a music video and a chance to get up closer with the characters. None of it is as delicious as a marmalade sandwich, but it's satisfying nonetheless. You can buy it here.
The Wedding Ringer Blu-ray
Despite making it clear with an f-bomb right off the bat that this is an R-rated movie, The Wedding Ringer feels a bit dated. This is mostly due to the plot, which follows Doug Harris (Josh Gad) hooking up with The Best Man Inc.'s Jimmy Callahan (Kevin Hart) when he realizes he doesn't actually have a male friend to fill the role during his upcoming nuptials to Gretchen (Kaley Cuoco-Sweeting). Josh Gad and Kevin Hart are two of the funniest comedians working right now, and giving them a big budget movie was not a bad bet by Sony. The two pull off a believable bromance and a few incredibly funny scenes, crashing wedding to prepare for the big day and having outings with a group of ragtag stand-ins that make up the rest of Doug's wedding party. Because of its predictability, The Wedding Ringer is a breezy watch, but we just wish it felt a little fresher. The good news? Sony Pictures Home Entertainment's Blu-ray set comes with a lengthy amount of outtakes and deleted scenes. If you like Gad and Hart, there's a lot to like about the disc. Check it out now.
The Gambler Blu-ray
Mark Wahlberg put some serious effort into prepping for his role in The Gambler, dropping weight (and money) to play the charismatic Jim Bennett in the remake of Karel Reisz's original film. Despite Walhlberg's focus, the efforts Rupert Wyatt makes to pay homage to The Gambler's predecessor may actually serve to detract some viewers from the film, which follows a literature professor (Wahlberg) with an intense gambling problem who has to figure out a way to work himself out of a financial bind. Wahlberg's performance is great, but his character isn't exactly likeable. He's a hard man to root for, and that makes the larger film feel a bit seedy. Now and again, however, it's a lot of fun. Give it a watch. I've seen a lot of weird gimmicks and promotions in my day, but none weirder than the $15 off sports tickets coupon that Ticketmaster has included with The Gambler's Blu-ray set. The rest of the Paramount Home Media Distribution's set takes itself pretty seriously, with features on the locations The Gambler chose to shoot in, the costumes and footage juxtaposing the 1974 version with this one. Order The Gambler here.
Inherent Vice Blu-ray
P.T. Anderson films are consistently lengthy and weird, but they are not always as winding as Inherent Vice. Anderson's latest film is a doped out and hazy part-noir, part-drug journey, told through the narrative eyes of one Joanna Newsom. The movie follows Larry "Doc" Sportello (Joaquin Phoenix) a private investigator who can't remember how many joints he's smoked each day, but still manages to be hot on the trail of a potential plot to get a dude named Mickey into an insane asylum. It won't be his only case. Through the shag-carpeted walls of brothels and the stark wood-paneled walls of police offices, the 1970-set film weaves a layered tale of intersecting mysteries, peppered with a supporting cast that puts most of 2014's other movies to shame, including Katherine Waterston, Josh Brolin, Reese Witherspoon, Jena Malone, Owen Wilson, Michael K. Williams, Eric Roberts and more. Warner Home Video's Blu-ray set leaves a little to be desired in the special features department; it's not a set for major collectors, anyway. Inherent Vice is complex, occasionally remarkable, and for the mind that wants to sit down and really flex its muscles during a movie, it's an interesting watch. Others need not partake. You can order Inherent Vice over at Amazon.
The Boy Next Door Blu-ray
The Boy Next Door is fun, at least in that outrageous, can't shut your eyes kind of way. There's something to be said for that. Then again, there's also something to be said for Jennifer Lopez who still has the X-factor after all these years. She's not the most talented actress in the world, but there's a spark to her that's refreshing to watch. She looks and acts like a movie star, even in the moments where she's vulnerable here. Second lead Ryan Guzman is better than expected too as the mentally unstable Noah Sandborn who sets the film's events in motion after he seduces and then freaks out on Lopez's Claire Peterson. It's not exactly Oscar-worthy, but in director Rob Cohen's capable hands, it's a nice little watch. The same could be said for the disc Universal Studios Home Entertainment put together, too. With a making of featurette, deleted scenes and a feature commentary, there's enough here to keep fans interested, though not enough to justify numerous visits back. Order the movie here.
Other April 28 Blu-ray And DVD Releases
The Boy Next Door
Mommy DVD
Covert Affairs: Season 5 DVD
Burn Notice: Season 6 DVD
Accidental Love
Suits: Season 4
April 28 Early Digital Releases
Two Men In Town
American Sniper
Fifty Shades of Grey (May 1)
Your Daily Blend of Entertainment News
Reality TV fan with a pinch of Disney fairy dust thrown in. Theme park junkie. If you've created a rom-com I've probably watched it.