New DVD Releases: March 2015 In Home Entertainment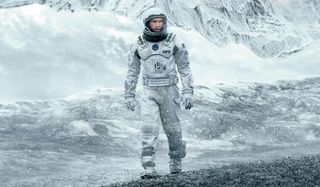 While upcoming new movies like Avengers: Age of Ultron are gearing up to head into theaters this spring, the big DVD companies are still churning out some Academy Award nominees and winners, along with some holiday favorites. From big franchises like The Hunger Games and The Hobbit to smaller releases, like The Imitation Game, there are plenty of great DVD/Blu-ray releases this month. Check out the list, below.
March 3
The Hunger Games: Mockingjay- Part I Blu-ray
Most of the Hunger Games movies have thrived on action sequences and a horrifying dystopian premise. This time around, the Hunger Games: Mockingjay – Part I team left the arena behind for the latest entry in Lionsgate's movie franchise. The plot has thickened and a revolution has begun, placing Katniss Everdeen (Jennifer Lawrence) front and center in the drama. It makes for a slower movie, but one that is more emotional and, surprisingly, works. The latest movie brings back some familiar faces, including Effie Trinket (Elizabeth Banks), Haymitch Abernathy (Woody Harrelson), Gale Hawthorne (Liam Hemsworth) and President Snow (Donald Sutherland). New faces are prominent too. We get to spend time with the rigid leader of District 13, Alma Coin (Julianne Moore). We also meet the artsy documentary filmmaker, Cressida (Natalie Dormer), who helps Katniss to become the voice of the people in the districts. But key to the story is Katniss' desire to rescue Peeta (Josh Hutcherson) from Snow's clutches.
If you are buying The Hunger Games: Mockingjay – Part I, it's likely you are already a fan of the franchise. Lionsgate Home Entertainment's set is incredibly detailed. The action sequences pop (especially on the big screen), but even just flipping through the Blu-ray disc is cool. The menu screen itself features a propaganda video. There is also commentary from director Francis Lawrence and a huge "making of" featurette with multiple segments. There's some great stuff in the deleted scenes, with one scene in particular featuring Peeta talking to President Snow that will make your hackles rise. There's even a tribute to the late Phillip Seymour Hoffman, who filmed scenes for the movie before his death. It's a great set, and you can nab a copy here. (opens in new tab)
Foxcatcher Blu-ray
Foxcatcher is basically about two characters, one who is aloof and pretty clearly has some kind of mental illness and another who keeps the majority of his feelings inside. Consequently, the finished product is a pretty slow burn. It winds and winds itself, building tension until it all climaxes into the epic conclusion. It's not a film for the faint of heart, nor is it a film for those who need to be consistently entertained. For those willing to see it through and invest in the characters, however, there's a ton of truth and beauty to be found, as well as another ringing endorsement for director Bennett Miller who is quickly becoming one of Hollywood's most careful, reliable and detail-oriented filmmakers. The Foxcatcher Blu-ray, put out by Sony, isn't quite so exhaustive, but it does contain deleted scenes, as well as a featurette, both of which are must-watches for big fans.
Other March 3 Blu-ray And DVD Releases
Outlander: Season 1, Volume 1
Tinker Bell and the Legend of the Never Beast
Da Vinci's Demons: The Complete Second Season
Longmire: The Complete Third Season
Life Partners
The Humbling
Innocence
The Last Of Robin Hood
The Captive
To Write Love on Her Arms DVD
The Better Angels DVD
March 3 Early Digital Releases
The Hobbit: The Battle of the Five Armies
Exodus: God and Kings
CSI: Cyber- Season 1
The Following: Season 3
The Last Man on Earth: Season 1
Battle Creek
March 10
The Sound Of Music 50th Anniversary Ultimate Collector's Edition
Twentieth Century Fox Home Entertainment's 50th Anniversary release of Rodgers & Hammerstein's The Sound of Music has some heft to it. It's not simply a TV airing of a movie that has become a classic; a movie that by estimate has been seen by more than a billion people, according to the extra features on the disc. There's the movie, sure, restored for high definition home viewing, but there are also numerous interactive extras and special bonus features that make the set a bit more magical. This disc is alive with music, but also photos and sketches, facts, documentaries, a DVD and digital copy and a copy of the soundtrack on CD.
Many people have seen The Sound of Music numerous times since the film was first released back in 1965, but they've never seen the movie like this. There's an "interactive celebration" function you can turn on while watching the movie that allows pop- up features to appear during the film. Among these are "The Sing-Along Experience" and an engrossing trivia game. There are plenty of basic features too, including audio commentary, although I will note Sound of Music lead Julie Andrews isn't the most talkative commentator I've ever encountered. No matter, a separate bonus disc will take viewers through an interactive tour of the Sound of Music home and through a virtual map. There's even a third disc with a brand new 60-minute documentary featuring the charming Andrews' return to Salzburg called The Sound of A City. Pick up (opens in new tab) The Sound Of Music's 5-Disc , 50th Anniversary Collector's Edition today.
Other March 10 Blu-ray And DVD Releases
Night at the Museum: Secret of the Tomb
The Flinstones & WWE: Stone Age Smackdown
John Hughes Yearbook Collection
The Red Road
Aaliyah: The Princess of R&B DVD
Ancient Aliens: Season 7-Volume 1
The Red Tent
White Haired Witch
Alpha and Omega 3: The Great Wolf Games DVD
March 10 Early Digital Releases
Bates Motel: Season 3
Despicable Me 2: 3 Mini-Movie Collection
Annie
A Most Violent Year
Unbroken
March 17
Top Five Blu-ray
Top Five is exactly the type of movie you'd expect a comedian to make. It's a hilarious take on a familiar story. A comedian, Andre Allen (Chris Rock) has reached a low point in his career and is trying to make a comeback in the public eye. To do this, he allows journalist Chelsea Brown (Rosario Dawson) into his life for an extensive profile that turns out to be a bit of a meet-cute. Rock's neither the best writer nor director, and while the story is predictable, the movie itself is always engaging, giving the audience an idea of what life can be like for a celebrity that is not totally in control of his own destiny. The title Top Five comes from a running bit where each of the characters share their own "Top 5 Rappers" list in the movie, and this device serves to highlight a bunch of comedians that are in their prime, including Leslie Jones, JB Smoove, Kevin Hart, and Tracy Morgan, who shot the movie prior to his accident. It also features cameos from Whoopi Goldberg and Jerry Seinfeld. If you haven't caught it, we suggest giving it a watch; if you haven't bought it, you may not need to. Paramount Home Media Distribution's Blu-ray is nice enough, coming with some outtakes and deleted scenes, but this isn't a movie that needs to be viewed in High Definition on a large screen. A digital copy would be perfectly adequate.
Other March 17 Blu-ray And DVD Releases
Exodus: Gods and Kings
Annie
The Penguins of Madagascar
My Girl Remastered Blu-ray
Dexter: Most Shocking Episodes
Song of the Sea Blu-ray
Transporter: Season 1
Troop Beverly Hills Remastered Blu-ray Turn: The Complete First Season
Muck
Life in the Wild 3D
Vice
Son of a Gun
March 17 Early Digital Releases
Wild
Interstellar
The Imitation Game
March 24
Into The Woods Blu-ray
Disney's Into The Woods has received a lot of notice for the changes made between Stephen Sondheim's musical and the film. However, I wouldn't call it a tame version of the story. Instead of simple lesson learning and a happy ending, Into The Woods gives us a cautionary tale, capably brought to the big screen by an all-star casting including Meryl Streep (Even if you haven't caught the flick, you've probably seen her in the "Stay with Me" clips that dominated Awards season), Emily Blunt, Anna Kendrick, Tracey Ullman, Johnny Depp, Chris Pine, and new Late Late Show host James Corden. Rob Marshall's movie intersects ideas from fairytales, including "Jack and the Beanstalk," Cinderella," "Rapunzel" and more. Disney's film is fun for those who enjoy musicals, and the set is a must-have for diehard fans—especially those diehard fans that have been looking forward to "She'll Come Back," the new Sondheim song that was expected to be featured in the movie.
Walt Disney Home Entertainment's set is wonderfully laid out, and behind-the-scenes extras look at the indoor building of the woods in the set, the intricate costuming, the score—all of the lovely details that took the stage program up a notch. As a bonus, you can play the entire soundtrack with music and lyrics. Nab your own copy here (opens in new tab).
The Hobbit: The Battle Of The Five Armies Blu-ray
It's hard to believe that the era of Middle-earth is coming to a close with the release of the final Hobbit film, the trilogy-ending Battle of the Five Armies, which capably wraps up the story of Bilbo Baggins (Martin Freeman) and his adventures, with Gandalf (Ian McKellen), the dwarves (Richard Armitage, etc.) and more, coming into contact with villains like the dragon Smaug (Benedict Cumberbatch) and the Orc army. Peter Jackson's ending capably connects to the beginning of the Lord of the Rings trilogy, finishing out the series in a way that should really speak to fans who have followed the director through a six-movie journey. Speaking of the connections between LOTR and The Hobbit movies, the new Blu-ray set looks at all of the connections to the two trilogies, giving fans an interesting take on the end of an era.
The Battle of the Five Armies has not even released an extended edition, yet, but this is a detailed set. We took a look at the regular Blu-ray set released by Warner Bros. Home Entertainment, which includes a special bonus disc with plenty of content. Even the titles of the extras sound epic: "A Six-Part Saga" and a "Seventeen-Year Journey" are among them. While the menu and layout aren't all that spectacular, there's plenty of stuff to enjoy about the bonus features, which look back at the trilogies beginnings and the making of the final movie. Huge fans should wait for the Extended Edition of The Battle of the Five Armies, but you can't beat the price (opens in new tab).
Unbroken Blu-ray
Unbroken may have originally attracted attention because of director Angelina Jolie's attachment, but thankfully, viewers were treated to more than just a passion project from an A-list star. During the often traumatic but engaging story of survival, lead Jack O'Connell proves just how talented he is, playing defiant Olympian and later war hero Louis Zamperini. He undergoes a life's worth of trials, setbacks and horrors, but his spirit is never completely crushed. It's a beautiful story, thanks to careful writing by the Coen Brothers and wonderful performances by the supporting cast, Unbroken is one of the more interesting movies of of 2014, regardless of what the Oscar nominations may have implied. Universal Studios Home Entertainment's set comes with Blu-ray, DVD and Digital copies, as well as numerous special features. The deleted scenes are worth a look for big fans, but the real highlights are the featurettes, particularly the one that looks at the real Louis Zamperini. You can grab the movie here (opens in new tab) and learn more about the novel the flick was based on over at author Lauren Hillenbrand's site.
March 24 Blu-ray And DVD Releases
Fast & Furious 1-6 Collection: Limited Edition
Song One
March 31
Interstellar Blu-ray
Christopher Nolan's splashy film Interstellar first hit the box office back in November, but it's lingered in our minds for much longer, and this week Warner Bros. Home Entertainment is finally releasing the film onto Blu-ray. Interstellar is a movie that is best consumed on a large screen, but even if you have a relatively large television, the space journey undertaken by Cooper (Matthew McConaughey), Brand (Anne Hathaway), Doyle (Wes Bentley) and Romilly (David Gyasi), looks pretty incredible, with planets and solar systems creating landscapes that are as memorable as the blustering dust and dying planet consuming the lives of Professor Brand (Michael Caine) and Murph (Jessica Chastain) on Earth.
The Blu-ray isn't as mesmerizing as the actual movie, but Warner Bros. went out of the way to put together a set of extras that will appeal to fans. The "Science of Interstellar" was obviously going to be addressed with the set, and Warner Bros. got Matthew McConaughey to narrate a segment regarding the science on the extra fancy bonus features Blu-ray to boot. The set also comes with a collectible IMAX film cell that apparently came from an actual 70 mm film print. Anne Hathaway's teary-eyed in the one I review, and while it's gimmicky and I have no idea what to do with it, it's still pretty cool. Get your own movie/film print here (opens in new tab).
Imitation Game Blu-ray
The Imitation Game is a careful movie. It follows acclaimed British computer scientist Alan Turing as he and a team conquer Germany's famed Enigma Machine and help turn the tides of World War 2. To offer context and character development, the film gives us Turing during two other times in his life, as well. We meet him as a young boy who discovers his sexuality and falls in love for the first time, and we meet him as a deteriorating adult who is betrayed by his own government. It's a disappointing story in some ways, but in many others, it's a hopeful journey and a reminder of how brilliant and dedicated people can change the world. It's something we need to remember, and fortunately, the larger Blu-ray release from The Weinstein Company and Anchor Bay is loaded with special features that allow viewers to explore more. It's missing a larger documentary on Alan Turing, but it does contain a commentary track with director Morten Tyldum and screenwriter Graham Moore that touches on the inspiration. In addition, the set offers a Q&A, deleted scenes and a making of featurette, all of which are worth a look.
Silicon Valley Season One DVD
Mike Judge is one of the better comedic minds in the business. With cult favorites Beavis and Butt-head and King Of The Hill already under his belt, fans were expecting big things from Silicon Valley. Fortunately, Season One delivers. It manages to find the perfect balance between smart, sophisticated humor and dick jokes, delivering both astute commentary on the technology field and episode long arguments about jerking people off. In short, it's a riot, and the HBO comedy looks like it could be around for a long time, thanks in part because the episodes are so re-watchable. That's a particularly good quality to have in a DVD too, and this one is filled with some additions that make it better. The disc takes fans through both the Pied Piper house and the Techcrunch conference, and it offers a "Making Of" featurette, as well.
Wild Blu-ray
You would think that a story about a woman losing herself on the trail in order to find herself would be ripe with clichés and heartbreak. Yet, with a little Nick Hornby flair and a lead as watchable as Reese Witherspoon, the clichés are left behind. In their place is the story of a woman who continually treated herself badly, having sex with strangers and getting addicted to heroine while dealing with the death of her mother, but who decides to hike the Pacific Crest Trail as a means to confront those demons. As Cheryl Strayed, Witherspoon is infinitely watchable, and Jean-Marc Vallee's story feels cohesive, despite featuring plenty of time jumps to past memories. Wild is based on a book by the real Cheryl Strayed, and the writer appears on the bonus disc to explain where her story has gone after the events in the movie. Plus, a Blu-ray copy of the flick won't break the bank (opens in new tab).
Other March 31 Blu-ray And DVD Releases
Wild
Wild Card
Gravity: Special Edition
Island of Lemurs: Madagascar
Outcast
Cries and Whispers
Veep: The Complete Third Season
Your Daily Blend of Entertainment News
Reality TV fan with a pinch of Disney fairy dust thrown in. Theme park junkie. If you've created a rom-com I've probably watched it.