New DVD Releases: April 2016 In Home Entertainment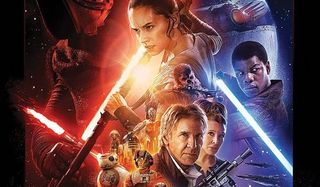 April isn't a great month for DVD and Blu-ray releases. In fact, it would be a patently slow month if not for the huge, long-awaited release of Star Wars: The Force Awakens, which is hitting Digital and is heading to Blu-ray and DVD at the beginning of the month. We've already heard a little bit about the release and seen the trailer for the deleted scenes, but there are a lot of other extras in that puppy. If you aren't jazzed about the Star Wars: The Force Awakens release, there is other good stuff coming out, including both movies and TV shows. You can check out some more of this month's releases, below.
If you're looking for the March releases, you can see them all here.
April 5
Star Wars: The Force Awakens Blu-ray
Star Wars: The Force Awakens has been one of the most highly anticipated home entertainment releases in recent memory—if not the highest. J.J. Abrams' new film capably returns us to the Star Wars universe while intermixing new characters like now-General Leia (Carrie Fisher), Han Solo (Harrison Ford) and Chewbacca (Peter Mayhew) with new ones, including Rey (Daisy Ridley), BB-8, Poe Dameron (Oscar Isaac) and Finn (John Boyega). It's a movie that works on a lot of levels, including moment for the longtime fanbase, as well as for a whole new generation of viewers.
By now, you probably already know if you are the audience for Walt Disney Home Entertainment's Blu-ray set, but the entire extra disc of bonus content is certainly worth talking about. "Secrets of The Force Awakens" is basically a set diary, with entries from the leads, Director J.J. Abrams and even the producers. It's so all-inclusive that you even get producers talking about how they basically knew nothing about the universe when they started, which isn't the most exciting behind-the-scenes info we've ever learned. But for every tedious comment, there are moments where Simon Pegg's process to get into costume or how the chess set was reworked are revealed. There's a whole segment devoted to how BB-8 was created and how different iterations of the creation worked on the set. There are also shorter segments that look at visual effects or show fans part of the original table read for the movie. Throw in six deleted scenes--sadly none with Maz Katana--and there's a lot to get through.
You can order the Blu-ray with a DVD and Digital copy, here (opens in new tab). Plus, if you don't need the big set complete with all of the bells and whistles, the Digital copy has been available since April 1.
April 5 Blu-ray and DVD Releases
Star Wars Episode VII: The Force Awakens
Doctor Who: The Complete Ninth Series (opens in new tab)
Banshee: The Complete Third Season
Episodes: The Fourth Season DVD
House of Lies: The Fourth Season DVD
The Expanse: Season One (opens in new tab)
Tumbledown
Mojave
The Odd Couple Season 1 DVD
#Horror
Week of April 5 Early Digital Releases
Star Wars: The Force Awakens (April 1)
Joy (April 8)
Fear The Walking Dead (April 11)
April 12
April 12 Blu-ray And DVD Releases
Welcome To Sweden: Season 2 DVD
The Forest
Week of April 12 Early Digital Releases
Krampus
The Fifth Wave
Ride Along 2
Jane Got A Gun (April 15)
April 19
The Revenant Blu-ray
The Revenant is a tough movie to watch. Amidst every single frame, you see the pain and sometimes torture the filmmaker and actors went through in order to realize their story. And what a story it is. The journey follows Hugh Glass (Leonardo DiCaprio), as his son is murdered and he's left for dead in 1823, following a bear attack that saw him slow down his crew of hunters and trappers. He vows revenge and fights through heartbreak and injury to get there. It's the ultimate test of will, and every step of the way, The Revenant makes it clear to the viewer exactly how brutal the crawl back to society is. It's painful to watch, but it's also a testament to the human spirit and to the power of pure, old fashioned anger. Unfortunately, a whole lot less effort has been put into the special features than Alejandro G Inarritu put into his masterpiece. The only one of note is a documentary called A World Unseen. It's really good and worth your time, but given how little else is here, Twentieth Century Fox Home Entertainment's set is primarily for those who absolutely love The Revenant and want to continue revisiting it over the next few years. You can purchase it over at Amazon, here (opens in new tab).
April 19 Blu-ray And DVD Releases
Haven: The Complete Series DVD
Haven: The Final Season DVD
Fifty Shades of Black
Silicon Valley: The Complete Second Season
Veep: The Complete Fourth Season
The Lady in the Van
And Then There Were None
Norm of the North
Little House on the Prairie: The Ninth And Final Season
Bob The Builder: Construction Heroes Drunk Stoned Brilliant Dead: The Story Of The National Lampoon
IP Man 3
April 26
Krampus
As the follow-up feature to director Michael Dougherty's 2008 cult favorite Trick r Treat, Krampus was one of the most anticipated movies of 2015 among horror fans. The hope was that the filmmaker hadn't lost his touch in meshing gory thrills and black comedy, and there is indeed a lot about this Christmassy quasi-slasher that's garishly fun and childishly frightening. Krampus' story centers on a mismatched family getting together for the holidays, where everyone's cold and unspirited feelings towards each other bring out the Krampus, the anti-Santa of German folklore that punishes bad folks in a variety of ways that aren't very survivable. There is a great cast here – including Adam Scott, Toni Collette, Allison Tolman, David Koechner and Krista Sadler – and the dead-of-winter production design is everything you could want from endlessly icy gloom. Plus, the sequences involving Christmas staples coming to life are deliciously malicious. For all its championable qualities, though, Krampus may never be solidified as a holiday classic, largely due to the plot-specific awfulness of most of the characters' behavior and uncomfortable interactions. Still, it's fun to watch jerks get what's coming to them, right? And the Blu-ray has more gifts for viewers than just the feature, as you'll find a fun and detail-friendly commentary between Dougherty and co-writers Todd Casey and Zach Shields, a big batch of deleted and extended scenes complete with alternate ending, a silly gag reel, an engaging half-hour making-of feature that explores five different elements of the production and an extra specifically highlighting the effects work. Now be nice to your families, or watch out for weaponized gingerbread men. And head over to Amazon (opens in new tab) to purchase the Blu-ray or DVD.
April 26 Blu-ray And DVD Releases
Krampus
Ride Along 2
Jane Got A Gun
Son of Saul
Hot in Cleveland: Season Six
Phoenix
Hot in Cleveland The Complete Series DVD
Week of April 26 Early Digital Releases
The Boy
Reality TV fan with a pinch of Disney fairy dust thrown in. Theme park junkie. If you've created a rom-com I've probably watched it.
Your Daily Blend of Entertainment News
Thank you for signing up to CinemaBlend. You will receive a verification email shortly.
There was a problem. Please refresh the page and try again.