The Filthy Red-Band Dirty Grandpa Trailer Is Starting To Win Us Over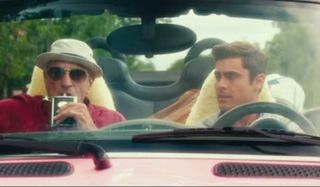 When the first trailer for Dirty Grandpa was released at the end of last month it failed to show any inclination that it might actually be funny. Which, for a comedy, is a very bad sign. So there was very little excitement when it was announced that the red-band trailer for Dirty Grandpa would soon be with us. But lo and behold it actually does make it look as though Dirty Grandpa could be worthwhile after all. Don't believe us? Then check it out in all of its filthy glory below.
While the original trailer had made it look like Robert DeNiro, Zac Efron, and Aubrey Plaza flirted with being outrageous and shocking, I couldn't help but think that the film would end up being nowhere near as disgraceful as the clip suggested. But the latest footage, dropped by Lionsgate themselves, makes me seriously reconsider.
OK, fair enough, it doesn't really look as though Dirty Grandpa is going to change the world, but the fact that it at least made me chortle a couple of times and even laugh out loud once is enough evidence for me to reconsider the comedy. And most of that is down to the two-time Academy Award winner, and veteran of comedy, Robert DeNiro.
Not only does it look like DeNiro's ne'er-do-well Dick Kelly forms an intimate and sexual bond with Aubrey Plaza's Lenore, despite the fact that she is 41-years younger than him, but he also looks right at home shouting insults that revolve around a defecating Queen Latifah, as well as horse cocks, while also encouraging people to party until their pregnant.
Plus it also helps that the always magnificent Plaza is involved, while the supporting cast includes the sensationally funny duo of Jason Mantzoukas and Adam Pally. I am also a self-diagnosed Zac Efron fan. Sure his leading man credentials have been damaged by the woeful We Are Your Friends, but give him a comedic character to portray and he will always produce the goods. Just look at Neighbors, Liberal Arts, 17 Again, heck he's even good in the admittedly woeful That Awkward Moment.
Plus, I've had a slight inkling that Dirty Grandpa might actually be watchable ever since its first poster was released. Kudos to whoever dreamed up this perverted homage to The Graduate.
Dirty Grandpa will be released on January 22, and it promises to make you never look at Robert DeNiro or your actual grandpa in the same light ever again.
Your Daily Blend of Entertainment News