Darth Vader Tries To Ruin Christmas In This Hilarious Video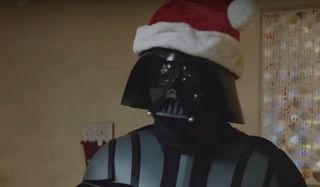 You probably noticed this whether you celebrate the holiday or not, but it's Christmas Day. With the release of Star Wars: The Force Awakens last week, it's also a festive time of year for a whole different reason, and one hilarious new video making the rounds on the internet combines the fun of that far, far away galaxy with the holiday spirit. And it'll make you realize that Darth Vader is an even bigger dick than you thought.
This "Darth Santa" video from Corridor Digital not only mixes together two of our favorite things—Star Wars and Christmas—but it does so in a charming and funny way. When you stop and think about it, it makes sense that Darth Vader wouldn't be a huge fan of the holidays. After all, he's not the cheeriest fellow, and he's kind of estranged from his kids, so there's not a lot of family time to be had, but damn, who knew he was such a raging Grinch? Seriously, who pours milk into a stocking?
The heavy breathing villain goes on one hell of a holiday rampage in this video. Not only does he distribute coal to naughty kids, grind Christmas cookies into the carpet, and crash a shiny new pink bicycle through a yard full of decorations (imagine driving down the street and seeing Darth Vader riding a child's bike through the streets and trying not to plow into a parked car in the process); he also uses the Force to help him in his destruction. That's the most fun, inventive part of this video, how he uses his powers to knock over trees, snap a skateboard in half, and generally wreck up the joint.
And just when you think this video is about to take a turn for the adorable, just when you think it's going to get all warm and fuzzy and heart-warming, that's when it peaks, with Darth Vader, wearing a Santa Claus hat, Force throwing a small child into the wall before taking off in his TIE Fighter-driven sleigh. I laughed harder at that than I probably should have.
If this isn't enough a Star Wars fix for you on this Christmas morning (or afternoon or evening or whenever you're reading this), there's an easy fix for that. You may have heard of a little movie called Star Wars: The Force Awakens that's currently in the process of taking over the world. You can always drag yourself to the theater and watch that. It's a pretty good time.
Your Daily Blend of Entertainment News
Thank you for signing up to CinemaBlend. You will receive a verification email shortly.
There was a problem. Please refresh the page and try again.