Deadpool Without His Mask Is Horrifying, But His David Hasselhoff Joke Is On Point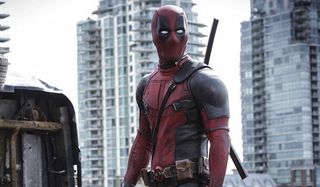 While we've had a couple of decent box office hits, the first really big movie to be released in 2016 may very well be Deadpool (not counting The Revenant, which opened wide this year). It's on track to make a ton of money during its debut weekend, and after recent surprise screenings, anticipation is super high. The marketing has also been on point, including star Ryan Reynold's use of social media to engage fans, and his latest offering shows off the title character's horrifying visage that lurks beneath his mask. And he drops a David Hasselhoff joke. So it's a win all around.
As he has done many times already, Ryan Reynolds took to Twitter to give fans a little something, and this time he showed off what Deadpool looks like without his mask. We've already seen this a number of times in trailers and TV spots—TJ Miller's character, Weasel, says he looks like an avocado had sex with an older avocado, which isn't far off—but it's no less horrific in full light and not moving.
And if you're not fluent in German, and don't want to go through the hassle of Google Translate, don't worry, we've got you covered, and the caption translates to:
Yeah, that sounds about right. There's no real context for this new image, but if nothing else, it, yet again, illustrates the irreverent sense of humor employed by the protagonist and the movie as a whole. If I had to hazard a guess, however, I'd probably say this comes from some action scene, maybe later in the movie, where he pulls off his mask to use his scarred appearance for shock value and gain a strategic advantage. Or maybe he just wants to gross out some random kids, I could see that happening too.
Deadpool follows Wade Wilson, a former special operations soldier who, when his body is ravaged by cancer pretty much everywhere, turns to an experimental procedure. The process gives him accelerated healing properties, but also leaves him with the troubling appearance you saw above and makes him a wee bit unstable in the mental department. With a brutal disregard for human life, a wicked sense of humor, and a penchant for breaking the fourth wall and addressing the audience directly, he sets out on a quest for revenge against those who did this to him and save his love interest (Morena Baccarin).
You'll get to see the big screen adventures of the Merc with the Mouth when Deadpool hits theaters on February 12, just in time for a romantic Valentine's Day getaway.
Your Daily Blend of Entertainment News