Watch Deadpool Insult X-Men Origins And All Of Australia In Hysterical New Clip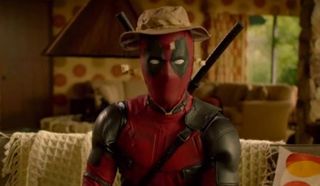 If you're familiar with the comics that serve as the source material, you're already well aware that Deadpool is not going to be your average superhero movie. Sure, he wears red tights, but there's going to be much more blood, violence, sex, and swearing than anything you've seen from Marvel. That's all well and good, but the marketing has been super on point, playing up the Merc with the Mouth's twisted sense of humor, and the latest bit has Wade Wilson's alter ego dissing his last big screen appearance and insulting the entire nation of Australia.
In this video, Deadpool, brought to life by Ryan Reynolds, takes a moment out of what is surely a hectic schedule of killing bad guys, generally causing a ruckus, and promoting his upcoming eponymous movie to celebrate Australia day and to talk about their shady criminal pasts and shared love of getting black out drunk. Then there's their mutual disdain for New Zealand (if there were chimichangas, this would be a match made in heaven).
For a moment, it looks like he's going to take a swipe at Wolverine and Hugh Jackman, the man who has given us so many memorable moments as the clawed mutant with anger management issue. You can breathe a sigh of relief, however, as he means the 2009 movie X-Men Origins: Wolverine, which he admits "was a career low for me." Yeah, there are sure to be a number of folks out there who agree that incarnation of Deadpool did not turn out as well as we hoped.
My favorite part of this video is when Deadpool just starts coming off the rails and throwing shade at Australia day. We've known since the start that Deadpool is a passion project for Ryan Reynolds, and if nothing else, this clip shows off just how much fun he's had playing this role and promoting this movie.
In an effort to cure the cancer that has riddled his body, former special forces soldier Wade Wilson subjects himself to an experimental treatment that leaves him horribly disfigured, gives him accelerated healing powers, and makes him a wee bit unstable in the mental department. With a new identity and a demented sense of humor, Deadpool embarks on a journey to track down the men who did this to him and exact revenge, putting himself and his love interest (Morena Baccarin) in harms way in the process.
Deadpool staged a couple of surprise screenings for fans recently—attendees thought they were going to see new footage, when in reality they were shown the entire film—and, granted the sample audience was a bit skewed, reactions were through the roof. Many praised it for embracing the graphic, profane nature of the comics, which is something fans love to hear.
Deadpool, in all of its R-rated glory, hits theaters on February 12, just in time for a romantic Valentine's Day excursion.
Your Daily Blend of Entertainment News