Death Race 2 Relegated To DVD, Shooting In South Africa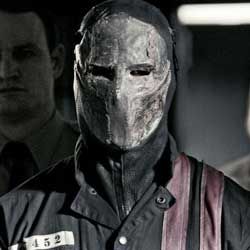 Production for Roel Reiné's Death Race 2 is underway. Please subscribe now. Universal Pictures has just announced that engines are being revved on the sequel's South Africa set. Luke Goss, Ving Rhames, Sean Bean, Danny Trejo, Frederick Koehler and Lauren Cohan assembled for principal photography on February 13th. Shooting is still in progress but Universal will eventually make the prequel part of its DVD Originals banner, which includes films like the straight-to-DVD Bring It On series and the American Pie franchise.
The screenplay from Tony Giglio brings us back to Death Race pre-Jensen Ames. A few years into the future, the economy is crumbling and increasing violent outbursts send crime rates soaring out of control. To get a handle on all of the new menaces of society, a network of for-profit, private prisons goes into business. When Carl Lucas (Goss) arrives at the most notorious facility of all, Terminal Island, TV personality September Jones launches the lethal reality show, Death Race. With a grand prize of freedom, the offer is just too good to be ignored and Lucas signs up to get behind the wheel.
In a dream world, Universal would have arranged for the original cast to return, but Bean and Goss are excellent replacements. Rhames and Trejo will also make for perfect Terminal Island badasses. Plus, we do get one familiar face, Koehler. He played Lists, the data collector of Frankenstein's crew in the original. A number of sources are still calling the film Death Race: Frankenstein Lives, but the studio press release makes no mention of the subtitle. It does call the film a chronicle of Frankenstein, so it's safe to assume the film is still about the first masked driver.
Your Daily Blend of Entertainment News
Staff Writer for CinemaBlend.