Debi Mazar And Cory Hardrict Join Linda Lovelace Biopic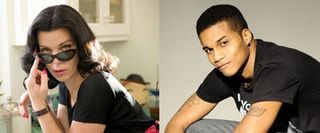 The rollercoaster ride of fame and notoriety that was the life of Deep Throat star Linda Lovelace has been earning plenty of ink lately, what with child star turned hot mess Lindsay Lohan insisting her comeback was imminent thanks to the starring role she'd secured in the Lovelace biopic Inferno, her subsequent firing , from that project, and the rise of casting rumors, on a rival Lovelace biopic, simply titled Lovelace. Since then, sweet-faced ingénue Amanda Seyfried has signed on to play the controversial 1970s icon in Lovelace, which is currently in production.
With a cast that includes Peter Sarsgaard as Linda's abusive husband, and Demi Moore as noted feminist Gloria Steinem, Lovelace is now drawing buzz with the promise of lots of nudity and new cast announcements. THR reveals that the latest additions to the cast include Debi Mazar (Be Cool, Goodfellas) and Cory Hardrict, who stars in the upcoming zombie flick Warm Bodies. Mazar is set to play Dolly Sharp, a oft forgotten Deep Throat co-star, while Hardrict will take on Frankie Cocker, an early DJ credited with fathering FM radio.
If you're still wondering why the life of a porn star has proven so fascinating to so much of Hollywood, it's due in no small part to the effect the release of Deep Throat had on American pop culture and the sexual revolution of the 1970s. Linda and her jaw-dropping sexual skills made her a poster child for a new and unashamed sexual freedom, but then when allegations arose that she'd been forced to perform in the porn by her domineering and abusive husband, she switched from being a wild new celebrity to a weeping victim, who was utilized by leaders of the '70s feminist movement to display what they felt was the negative impact of porn. Knowing all this, it's easy to see why Hollywood stars would be attracted to Lovelace as an allegory of the double-edged sword of American celebrity.
If you'd like to learn more about Lovelace and the impact of Deep Throat, I highly recommend watching the provocative and sharp documentary Inside Deep Throat.
Lovelace, directed by Rob Epstein and Jeffrey Friedman (Howl), also features performance from Juno Temple, Hank Azaria, James Franco, Sharon Stone, Wes Bentley, and Chris Noth. It's expected to open later this year.
Staff writer at CinemaBlend.
Your Daily Blend of Entertainment News
Thank you for signing up to CinemaBlend. You will receive a verification email shortly.
There was a problem. Please refresh the page and try again.