Dee Snider On Strangeland 2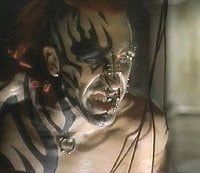 Before Rob Zombie transitioned from heavy metal rocker to respected horror director there was Dee Snider. Snider made his name in the band Twisted Sister and had a cup of java at the top in the music for freaks industry. In the late 90s he tried to make the jump from musician to filmmaker by writing and starring in the horror movie Strangeland.
Strangeland wasn't exactly a success, but for a brief while there Snider's name kept popping up whenever anyone was talking horror movies. I have a weird feeling that Strangeland would have done better were it released today. Torture porn is a mainstay in modern theaters and that's really what it was. A sicko named Captain Howdy (played by Snider) lures teens into painful traps and bloody rituals. He's caught, cured, and released but soon reverts to his old ways and sets out looking for revenge. It'd fit pretty comfortably in between Zombie's stuff and Hostel. The movie only made $2 million in 1998, today that would probably be 10 or 20, depending on how much gore they slipped past the censors.
Well Snider isn't done with his quest to become a horror genre icon. In an interview with Metal Sludge he tells them that he wants to make a Strangeland sequel. But there's a catch. He says, "The U.S. government seized the property and arrested the CFO of The Shooting Gallery, the production company who made the first "Strangeland." So I was in court fighting to get my property back for 5 fucking years! I did finally get it back this past year and now Lions Gate Entertainment says that they'd like to pick it up. Their exact words were, "We want to make the sequel." But getting it from there into movie theaters is going to be a long fucking road."
So it sounds like it's happening, and Snider says your first glimpse of the sequel will be on an upcoming re-released DVD of the original Strangeland. For the DVD, they're going "to be shooting a new scene, which will be attached to the end of the movie as a teaser for the next one." That scene will be used as the opening for the sequel, which according to Snider is being called Strangeland: Disciple. Captain Howdy gets a protégé?
Your Daily Blend of Entertainment News
Thank you for signing up to CinemaBlend. You will receive a verification email shortly.
There was a problem. Please refresh the page and try again.