Details Emerge On The Wachowskis' Gay War Movie Cobalt Neural 9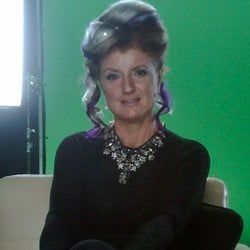 All the information we have about the new, super-secret project from the Wachowskis has been leaking in drips-- first there were Arianna Huffington's Twitpics from the set last December, then the equally mystifying news that the movie might be about a hardcore gay romance between an American soldier and an Iraqi during the war. Now Vulture has gotten their hands on even more details, and yes, everything you've heard so far is true.
The title we heard previously, Cobalt Neural 9, is still in place and deliberately nonsensical; it doesn't appear anywhere in the screenplay, and apparently they may change it soon to keep things more secret. And apparently the Wachowskis are developing this simultaneously with their long-planned adaptation of the novel Cloud Atlas, and they'll determine which project to go forward with based on which gets funding first. If you're guessing the adaptation of the acclaimed novel is more likely to get studio funding than a hardcore gay romance, you are correct-- but one of Vulture's sources pointed out that the Wachowskis are very, very flush with Matrix money, and could probably fund it themselves if they so chose (they've almost definitely paid for the shooting done so far with Huffington and Jesse Ventura as futuristic pundits).
Everything else in the piece probably qualifies as MAJOR SPOILERS, so read ahead with caution.
The story starts off as, yes, a hardcore romance between the American soldier and the Iraqi soldier during the second Gulf War-- they are depicted "rutting like animals behind this fence" while wearing burqas-- but when disaster strikes, the two plot to kill the man responsible for the war: George W. Bush. Yeah, remember what I said about a studio never funding this thing? Still, apparently Cobalt Neural 9 is budgeted only at around $20 million, so they could easily make the thing on the sly while waiting for a Cloud Atlas cast to pull together. They're apparently planning to start shooting next month, actually, which means some intense set photos may start to surface.
END SPOILERS
As a card-carrying member of the liberal media, whatever that means, I'm beyond intrigued to see what on earth this is going to look like. But is anyone else actually going to want to see it? And, maybe a better question, do the Wachowskis even care? They're apparently still very rich and have obviously passed the point of caring about what others think. I suppose there are worse things at this point than to blow a ton of cash on your crazy dream project that no one else would ever make.
Staff Writer at CinemaBlend
Your Daily Blend of Entertainment News
Thank you for signing up to CinemaBlend. You will receive a verification email shortly.
There was a problem. Please refresh the page and try again.