Did Channing Tatum Just Confirm A Gambit Cameo In X-Men: Apocalypse?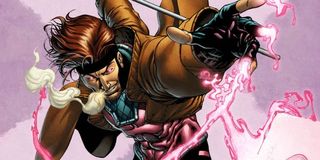 We all saw that incredible superhero selfie, right? Stan Lee came out at the end of Fox's Hall H panel at San Diego Comic-Con and took one of the best selfies of all time with the casts of Deadpool, X-Men: Apocalypse, and Fantastic Four, and Hugh Jackman. Amid the chaos was Channing Tatum. The Gambit star came out at the last minute to join the photo, though he wasn't featured on stage in any of the panel presentations. So, what was he doing there? As Joan Callamezzo on Parks and Recreation would say, "Let's speculate wildly!"
But, seriously, hear me out.
Bryan Singer has been filming X-Men: Apocalypse in Canada, and the cast still has a while left to go before finishing up. We all knew Singer would be flying directly from Canada to San Diego to promote the X-Men: Days of Future Past - Rogue Cut, but the appearance by the Apocalypse cast was supposed to be a surprise. Singer was joined on stage by Michael Fassbender, James McAvoy, Jennifer Lawrence, Nicholas Hoult, Evan Peters, Oscar Isaac, Sophie Turner, Tye Sheridan, Alexandra Shipp, Olivia Munn, Ben Hardy, Lucas Till, Kodi Smit-McPhee, and Lana Condor. Phew!
And then we have Tatum. It's safe to assume all these previously mentioned actors were flown from the set of Apocalypse, perhaps a couple flown from elsewhere. But they were brought in specifically for the panel, which leaves Tatum's appearance a mystery. Why would Fox have paid the actor to fly from his home just to pop in real quick for a selfie and not say anything? With no other presence at Comic-Con, we have a theory as to why he was there: he was secretly filming a cameo appearance in X-Men: Apocalypse and, instead of being one of the only ones left on the Canadian set with nothing to do, he took a trip with his fellow cast members to Comic-Con.
Keep in mind that this is pure speculation and that Tatum himself denied having any sort of role to play in Apocalypse. However, he wouldn't be the first actor to lie to the press, now would he? Furthermore, when his role was first announced to the public, sources said that the plan was for him to be featured in a cameo role in Apocalypse before branching off to star in his own Gambit movie. While he probably doesn't have a major part to play in Apocalypse, we wouldn't rule out a post-credits scene that introduces his character to the world, much in the same way the one on Days of Future Past introduced us to En Sabah Nur.
So, folks, what do you think of this theory? Tatum's Gambit is currently set for release on October 7, 2016, with Rupert Wyatt set to direct.
Your Daily Blend of Entertainment News