A Gambit Cameo In X-Men: Apocalypse? Channing Tatum Just Said This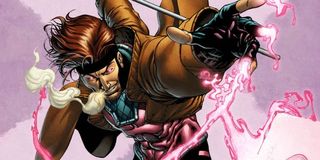 Recently we discovered that the solo Gambit film starring Channing Tatum is moving forward with Rise of the Planet of the Apes director Rupert Wyatt. But before he tackles his own adventure, word on the street — and word from Tatum himself — was that the card-slinging X-Man would first appear in next summer's X-Men: Apocalypse. The actor recently updated us on the matter, however, and things aren't looking good on that front.
Tatum participated in a Reddit AMA to support his campaign for the Runa Foundation. If fans donated to support this organization, which looks to establish clinics and research facilities dedicated to Amazonian plant medicine, they would be in the running to attend the Magic Mike XXL premiere with Tatum and the boys. During the chat, the actor was asked whether Gambit would pop up in X-Men: Apocalypse, to which he replied,
When plans for Tatum's role as Gambit were first announced, the goal was for him to appear first in the next big X-Men team-up film, if only in a cameo stint. The updates that followed supported this, especially a casting call that went out for Apocalypse. Calltime, LLC, a casting agency, put the word out for character actors and background players in Quebec, and it also included a description of the film that included Tatum's name among the cast. Whether this information was wrong or has changed over time, the actor was pretty straightforward about this matter.
It does contradict his earlier statements, though. A mere two months ago, Tatum told MTV that, while he wasn't at liberty to say, he believed the plan was to have Gambit in Apocalypse. He also stipulated that he didn't want to introduce him until he and the filmmakers could really explain who this guy is.
Channing Tatum has been talking about playing Gambit for quite some time. The mutant has the ability to change potential energy (an object's stored energy) into kinetic energy (the energy of motion), often times resulting in the transformation of everyday objects into explosives. His most commonly used weapon is a deck of playing cards he keeps on his person and throws out like grenades. Taylor Kitsch was the first actor to portray the character on the big screen in X-Men Origins: Wolverine.
Gambit marks one of Fox's major moves in the post-Apocalypse movie universe. With Wyatt at the helm, Josh Zetumer on script duties, and Tatum and Reid Carolin on as producers with longtime X-Men movie collaborators Lauren Shuler Donner and Simon Kinberg, the film will be ready for an October 7, 2016 release. The studio is also developing X-Men films for Deadpool starring Ryan Reynolds, an X-Force movie with Kick-Ass's Jeff Wadlow on board, and the recently announced New Mutants movie.
Your Daily Blend of Entertainment News