Discuss The Hunger Games: Mockingkay - Part 1 With Spoilers And Rate It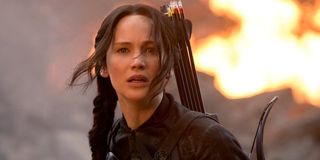 The Mockingjay lives! As of last night, Katniss Everdeen (Jennifer Lawrence) and the resistance from the Districts is back on screen for The Hunger Games: Mockingjay – Part 1, the debut adaptation of Suzanne Collins' third novel (but not the complete conclusion to the series… not just yet).
Eric Eisenberg wrote our Hunger Games: Mockingjay review, and praised the film's character-driven approach and mature political themes. Now it's your turn. We're giving you an open forum to discuss Francis Lawrence's latest Hunger Games sequel with the freedom of spoilers!
If you haven't seen The Hunger Games yet, run away! This page is LOADED WITH SPOILERS. The rest of you can spend the rest of the week – as well as the weekend -- raving (or ranting) about our newest epic, Mockingjay. And participate in our poll below, telling us how you thought The Hunger Games: Mockingjay – Part 1 turned out.
This poll is no longer available.
And relive the glory of Mockingjay - Part 1 with the stunning full trailer:
The series finally concludes next year with, obviously, The Hunger Games: Mockingjay – Part 2.
Movie junkie. Infatuated with comic-book films. ReelBlend cohost. Resident dad. Extroverted introvert. Wants to see the Snyder Cut. Managing Director at CinemaBlend.
Your Daily Blend of Entertainment News
Thank you for signing up to CinemaBlend. You will receive a verification email shortly.
There was a problem. Please refresh the page and try again.