Disney To Launch Ground Control To Major Tom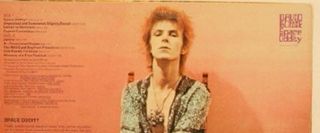 Referencing a classic song in a movie's title is probably one of Hollywood's most forgivable uninspired clichés. Sometimes monikers like Can't Buy Me Love or Stand By Me not only instantly evoke the tone a movie's aiming for but also offer a terse summation of the film's main theme. But more often than not these kind of titles are awkwardly slapped onto movies to make them better stick in the consciousness of potential moviegoers. So, their greatest crime is being far less memorable than their namesake.
Which category Disney's latest acquisition Ground Control to Major Tom will fall into is hard to predict, as we know nothing about the film's plot. What we do know—thanks to Deadline —is that the studio purchased Jason Micallef 's spec script which has Horrible Bosses' helmer Seth Gordon attached to direct, for the mid-six figures range. As you may have guessed from Gordon's involvement, Ground Control to Major Tom, which cops its name from the lyrics of David Bowie's "Space Oddity," is a comedy, but more specifically, it's a romantic comedy. But what this has to do with Bowie's track or space travel is entirely unknown at this stage.
Micallef is also a mystery His only screenwriting credit prior to this impressive sale is the satirical comedy Butter, which stars Jennifer Garner as an uptight woman frightfully addicted to competitive butter sculpting, which is apparently a thing. This quirky comedy was expected to hit theaters this spring, but was recently bumped to October 5th, where the Weinstein Company hopes the movie's political allegories will draw more traction so close to election time.
You can get a taste of Butter below from this curious clip:
I have no idea what Ground Control to Major Tom is about, but the clip above have me intrigued by Micallef's edgy sensibility. Still, it may be a while until Ground Control to Major Tom makes its way to the launch pad as Gordon is currently at work on Identity Thief, a crime caper starring Bridesmaids' Melissa McCarthy and Horrible Bosses' Jason Bateman, that goes into production this Monday. Also on his dance card is another music-inspired feature, The Only Living Boy In New York, which stars Logan Lerman and is slated for a 2013 release. All this could well mean the countdown to Ground Control to Major Tom may have to wait until next year.
Your Daily Blend of Entertainment News
Staff writer at CinemaBlend.
Your Daily Blend of Entertainment News
Thank you for signing up to CinemaBlend. You will receive a verification email shortly.
There was a problem. Please refresh the page and try again.