Disney's Moana Gives Fans The First Look At Their Hawaiian Princess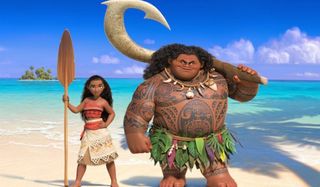 Disney fans can't get enough epic heroines, so they're going to have something extra to be thankful for next year when Moana, the 56th Disney animated feature, hits theaters on Thanksgiving 2016. Take a look as this new video, which introduces the voice of Moana, 14-year-old Auli'i Cravalho.
Auli'i Cravalho, the voice of Moana, was an unlikely pick for the role, as she was the last girl to audition on the final day of auditions. She will now get to fulfill two of her earliest dreams: performing and being a Disney princess. Cravalho initially didn't think she was good enough to be considered for the role. Luckily for her, an Oahu casting agent caught wind of Cravalho's singing ability during a charity competition, and after several rounds of auditions, Cravalho was flown to Los Angeles where directors Ron Clements and Jon Musker, the driving forces behind such Disney classics as Aladdin and The Little Mermaid cast her as the voice of Moana. She explained:
Moana is described by Disney as a "mythic adventure set around 2000 years ago and across a series of islands in the South Pacific." In it, Moana, a teenage island girl with a lot of spirit and an abundance of moxie, sets out on a quest to prove herself as a master wayfinder and to fulfill her ancestor's unfinished journey after voyages through Oceana had been halted for a millennia without explanation. Along the way she encounter a fallen demigod named Oahu, voiced by none other than Dwayne "The Rock" Johnson, and the pair set about overcoming impossible odds, including enormous, fiery creatures, in an effort to complete their quest.
Disney is certainly hoping that Moana will follow in the footsteps of the studio's recent animated epic Frozen, which not only became a pop-culture phenomenon in 2013 while raking in $1.3 billion at the box office worldwide to become the highest grossing animated film of all time, but also gave birth to Disney's newest and most bankable princess heroine, Elsa. Girls all across the globe wanted to be Elsa, with many cosplaying as her and voraciously scooping up as much Frozen merchandise as they could get their hands on. Cravalho believes that Moana has the chance to become a similarly iconic character. She says:
Moana opens November 23, 2016.
Your Daily Blend of Entertainment News