Disney's Zootopia Just Announced Its Wonderful Voice Cast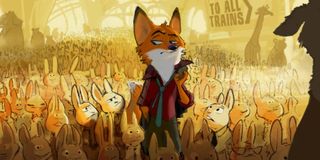 Will Walt Disney Animation be able to top Frozen? It was a worldwide sensation that transformed "Let It Go" into the new "It's A Small World," and spawned a Frozen Fever short film, a sing-a-long theatrical release, and an upcoming Broadway adaptation. Zootopia probably won't be that big of a hit, but the studio just announced its voice cast, and we have high hopes.
The basic gist of Zootopia, helmed by directors Byron Howard and Rich Moore, is that it takes place in a world where animals walk, talk, and act like humans, and live in one of numerous cities, each pegged to a specific animal habitat. Once Upon A Time's Ginnifer Goodwin has been cast in the leading role of Judy Hopps, an optimistic bunny detective who must team up with a "cynical-con-artist fox" to crack her first case. Jason Bateman of Horrible Bosses and Arrested Development will voice said fox, named Nick Wilde. Hopps isn't necessarily all that pleased about teaming up with such a nefarious character, but since she's new to the city and finding that being a small bunny on a police force full of rough-and-tough animals isn't easy, she's eager to prove herself.
Director Byron Howard and writer Jared Bush came out to Disney's D23 Expo a couple of years ago to preview the film. Based on their intel, some of the other characters yet to be cast include a mega-pop star Gazelle who always seems to have her own agenda, a lot of simpleminded wildebeests, and at least one angry porcupine. The studio also released a few pieces of concept art to show off the excuberant world.
In addition to the voice cast, Zootopia flaunts a stunning animated world that we've never seen before. Disney describes the environment as a melting pot of habitats, which includes the ritzy Sahara Square, which houses the beautiful Oasis Hotel; the wintry Tundratown, for all the cold-weather animals; and Bunny Burrow, which, as the name implies, is filled with bunnies and cute instillations like the Rabbit Transit Train. Disney's animated offerings seem to focus on this element of world-building. As Inside Out's Peter Doctor put it, it's about creating something that's familiar but has never been seen before by an audience. He's accomplishing this with his latest Pixar film, while Disney's animation house will delve into this animal kingdom, as well as a Hawaiian adventure with Moana.
Zootopia is co-directed by Rich Moore from Wreck-It Ralph and is set for release on March 4, 2016.
Your Daily Blend of Entertainment News
Thank you for signing up to CinemaBlend. You will receive a verification email shortly.
There was a problem. Please refresh the page and try again.