The Divergent Series: Allegiant Trailer Finally Shows Us What's Beyond The Wall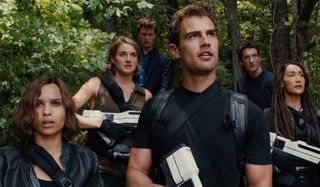 The final installment of the Hunger Games series will hit theaters this November, but fans of YA adaptations still have new Divergent chapters to which they can look forward. The first Allegiant trailer has debuted online, showing us Tris (Shailene Woodley) and her new hairdo, the world beyond the wall, more gunfire, and Jeff Daniels. Watch the footage below.
If you haven't seen any of the Divergent films, the Allegiant trailer catches you up a bit. The first film saw Tris, a young girl, rise as "divergent," meaning she doesn't fit into just one of society's five factions - "necessary" distinctions that help keep society afloat. After breaking the mold and going on the run from authorities, Insurgent saw Tris joining with the army of the Factionless and face down Jeanine (Kate Winslet), the woman who's been trying to do away with all divergents. Chances are if you're unfamiliar with this property, you have no idea what we're talking about. Just know that, essentially, a society living in Chicago has been cut off from the rest of this post-apocalyptic world for quite some time, and now they're going to venture out into unknown territory.
We get our first taste of this outside world with the Allegiant trailer. The color palette is very reminiscent of that volcanic planet in the beginning of Star Trek Into Darkness, but it's actual terrain is more like The Maze Runner: The Scorch Trials — a desert wasteland of sorts. But Tris isn't exploring this alone. She has her boyfriend Four (Theo James), her brother Caleb (Ansel Elgort), and her three Dauntless buddies — Tori (Maggie Q), Christina (Zoe Kravitz), and Peter (Miles Teller). Also accompanying Woodley and co. in this next installment are Naomi Watts as Evelyn, Octavia Spencer as Johanna, Jonny Weston as Edgar, Bill Skarsgard as Matthew, Nadia Hilker as Nita, and Keiynan Lonsdale as Uriah.
According to the official plot description, after exploring the outside world, they are taken into custody by Bureau of Genetic Welfare. The mysterious organization is led by a man named David, played by the aforementioned Jeff Daniels. These folks are the people behind the creation of Tris' society and others like hers, and over the course of Allegiant and its sequel, Ascendant, it will be —spoiler alert — revealed to be nefarious. Oh, yeah. In the great tradition of splitting the final installment of YA movie adaptations into two parts, so too will Veronica Roth's book, Allegiant. This first part will hit theaters on March 18, 2016, while The Diverveng Series: Ascendant is scheduled to drop on March 24, 2017. Both installments are directed by Robert Schwentke, the same guy who helmed The Divergent Series: Insurgent.
Your Daily Blend of Entertainment News
Thank you for signing up to CinemaBlend. You will receive a verification email shortly.
There was a problem. Please refresh the page and try again.