The Grand Budapest Hotel's Saoirse Ronan And Tony Revolori Dish On Chemistry, Jealousy And Chocolate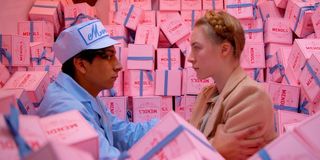 You don't know the name Tony Revolori yet, but that's all about to change. After a string of television roles, the 17-year-old Californian has been plucked from relative obscurity to co-star opposite Ralph Fiennes in Wes Anderson's most ambitious effort yet, The Grand Budapest Hotel.
In the effervescent murder mystery, Revolori plays Zero, an orphan and political refugee who has found a home in the fictional European nation of Zubrowka, and its stunning resort, The Grand Budapest Hotel. As the hotel's new lobby boy, Zero finds a mentor in the eccentric concierge Gustave H (Fiennes), as well as romance with a lovely baker named Agatha, played by Saoirse Ronan. While a horrible war brews in Zubrowka and a murder mystery envelops the Grand Budapest, Zero, Gustave and Agatha team up for an incredible adventure.
After dazzling at the Berlin International Film Festival, The Grand Budapest Hotel is coming to theater in the States. To toast its theatrical debut, several members of its ensemble cast came to a posh hotel in New York to answer questions about this intoxicating Anderson adventure. When I sat down with Revolori and Ronan, I was immediately impressed with how at ease the pair were, not just in front of the camera, but with each other. As you can see in the interview below--where we talk about everything from their first meeting to who Tony might have lost his role to--they share a warm chemistry and sweet camaraderie. It's something that translated beautifully to the movie, and they shared with me why.
Revolori and Ronan agreed that they clicked with each other and with Fiennes. But chemistry is such a key part to the film's success, I was surprised to learn that none of Revolori's auditions involved meeting with Fiennes at all. Instead he'd met his co-star in Berlin, just two weeks before production began. According to Revolori, they hit it off right away. As for Ronan, she didn't cross paths with her onscreen love interest until The Grand Budapest shoot was underway in the little town of Gorlitz, Germany.
In casting the role of Zero, Anderson has admitted he searched far and wide. Initially, he was looking for actors from Lebanon and Israel to play the part of the young man from a fictional Middle Eastern nation. However, his search eventually led to Los Angeles, where Revolori, who has Guatemalan heritage, contended for the role against his own brother. By his second audition, he and his brother Mario Revolori were the finalists for Zero. While this sibling rivalry may have been a tough situation for some brothers, Revolori insists, "He's great. He's talking to me…I love him! He's doing really good--"
Then Ronan cut in with a quip and a cheeky grin, "He doesn't love you anymore."
"No, he doesn't," Revolori joked, "But I love him. You know so much!"
As I gathered my things to leave, I asked for my own curiosity if either of the two got to try the film's fetishized treat, the chocolate courtesan. Ronan nodded happily, telling me she had, and assuring me it was just as delectable as it looked onscreen. But my heart sunk for Revolori when he told me he'd stayed away from the treat because he--poor boy--is allergic to chocolate.
You can see these two in action in the clip below:
The Grand Budapest opens March 7th. Look for more about the film this week, including our spectacular video interview with Willem Dafoe and Jeff Goldblum.
Staff writer at CinemaBlend.
Your Daily Blend of Entertainment News
Thank you for signing up to CinemaBlend. You will receive a verification email shortly.
There was a problem. Please refresh the page and try again.