Downton Abbey's Dan Stevens Joins The Cobbler, Night At The Museum 3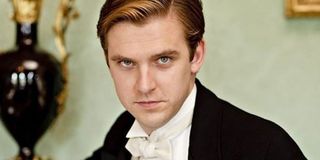 If you're like me, you're still a little annoyed at Dan Stevens for abruptly departing Downton Abbey and reducing both the UK and US to soul-rattling tears in that cruel Christmas special . But with the saga of Matthew Crawley behind him, Stevens is moving on to movies, the latest of which is Tom McCarthy's The Cobbler. Variety reports Stevens has joined the cast, which is fronted by funnyman Adam Sandler.
The casting choice of Sandler stunned us when it was first announced last September. McCarthy is a writer-director known for his tender and thought-provoking dramedies like The Station Agent, which launched Peter Dinklage, The Visitor, which earned leading man Richard Jenkins a well-deserved Academy Award nomination, and Win Win, which co-starred former Oscar nominees Paul Giamatti and Amy Ryan. On the other hand, Sandler--though he has dabbled in dramedy with Paul Thomas Anderson's Punch-Drunk Love and James L. Brooks' Spanglish--is most often associated with dedicatedly dumb comedies like Jack and Jill, That's My Boy, and Grown-Ups 2.
Still, we have faith in McCarthy, who hasn't made a bad movie yet. But details on The Cobbler are being kept under wraps, so Stevens' role is currently a mystery. However we know that Sandler will be playing the titular shoemaker, who appears to have the metaphorical/metaphysical ability to walk in the shoes of others, experiencing what their lives are like for a spell. Perhaps Stevens will be one of these lives that Sandler's cobbler steps into. As he has in the past, McCarthy wrote and is directing The Cobbler, which is now in production. Mary Jane Skalski is producing.
But this indie drama isn't all Stevens left Downton Abbey (and Lady Mary!) for. Variety notes that he has also signed on to join the growing menagerie of Night at the Museum 3. As he did in the first two adventures of this history-inspired franchise, Ben Stiller will star as Larry Daley, the museum security guard who discovers that museum exhibits come to life at night. Previously, iconic figures like Lewis and Clark, Teddy Roosevelt, Ivan the Terrible, Napoleon Bonaparte, and Amelia Earhart were resurrected for the family friends films. Stevens will join their ranks as Lancelot, the great night of King Arthur's roundtable who infamously fell for Queen Guinevere.
As much as I'm still reeling over the loss of Matthew on Downton Abbey, I can begrudgingly recognize it was probably a smart move for Stevens career. Already he's working with one of America's most respected actors' directors, and poised to earn screentime in a tent pole release with broad commercial appeal. Add to that the Liam Neeson vehicle A Walk Among the Tombstones, the Adam Wingard thriller The Guest, and the real-life romantic drama Summer in February, and Stevens appears to be on a roll.
Your Daily Blend of Entertainment News
Staff writer at CinemaBlend.
Your Daily Blend of Entertainment News
Thank you for signing up to CinemaBlend. You will receive a verification email shortly.
There was a problem. Please refresh the page and try again.