Dustin Hoffman Doesn't Want Any Little Fockers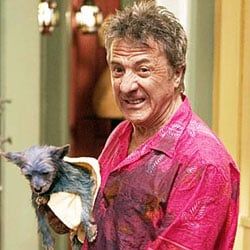 Focker down! It looks like the third Meet the Parents film, Little Fockers, will be short one Focker. According to EW.com, Dustin Hoffman said no to reprising his role due to scheduling difficulties and because the role is far too small.
I always thought it was understood that Hoffman and Barbra Streisand weren't returning as Bernie and Roz Focker at all, but apparently, 'a very funny cameo' was in the works. Hoffman agreed to participate in the scene but plans crumbled due to salary disagreements, scheduling troubles or both.
EW points out that Streisand will still be in the film and has a 'prominent role.' I wonder if Roz's screen time was always considered 'prominent' or if it had to be adjusted after Hoffman's departure. It sounds like Hoffman, a two-time Oscar winner, was just being snooty about his arrangements, but if the role of Roz was always much more significant than that of Bernie, I can understand his reluctance to participate.
In Little Fockers, the Focker and Byrnes families brace themselves for the arrival of a baby. How can they possibly make Bernie Focker's absence sensible? Bedridden after a capoeria accident? One too many chimichangas? Whatever they go with, it's unlikely to have much of an impact thanks to the addition of new characters played by Harvey Keitel, Jessica Alba and Laura Dern to detract our attention.
Staff Writer for CinemaBlend.
Your Daily Blend of Entertainment News
Thank you for signing up to CinemaBlend. You will receive a verification email shortly.
There was a problem. Please refresh the page and try again.