Dwayne Johnson May Get To Play Yet Another Comic Book Badass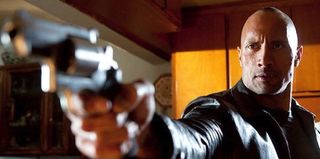 Especially right now, with big blockbuster movies like Batman v Superman: Dawn of Justice, Captain America: Civil War, and X-Men: Apocalypse all on the horizon, it's easy to forget that comic books are more than just superheroes. One classic character that has been on his way to the big screen seemingly forever is Doc Savage. Iron Man 3 director Shane Black has been kicking a Doc Savage movie around for years, and while a number of actors have been linked to the role, Black now has his eyes set on one of the biggest of them all for the role, Dwayne "The Rock" Johnson. Yeah, he's already playing Black Adam in Shazam, but surely can totally make room for another comic book badass.
Shane Black recently sat down the folks at Thrillist, and while he dished on his upcoming The Predator, the Kiss Kiss Bang Bang helmer revealed that Dwayne Johnson is at the top of his wish list to play the legendary pulp adventurer, saying:
Let's hit pause for a second to reiterate that this is in no way an official announcement or anything like that. It's just that Shane Black, should he have the chance to make Doc Savage—which is a big if at this point—in a perfect world, he would like Dwayne Johnson to play the role. And we can't argue with his choice, as the former professional wrestler would be fantastic in the part of the muscular hero.
More than anything, what fans of Doc Savage should take heart in from this is that Shane Black still very much wants to bring this character to the big screen. Even though he said he wants to make the film "sometime next year," it's hard to imagine that it will be anytime soon. But it's nice to know that it's on his mind. Black's Russell Crowe and Ryan Gosling starring 1970s detective tale The Nice Guys hits theaters later this year, and The Predator recently got a March 2, 2018 release date, so even if he does somehow get Doc Savage going, it will likely be a while. We're willing to wait.
And to be fair, Doc Savage may be known for his comic book adventures, but that's far from the only medium the character has appeared over the decades. He first showed up in pulp magazines in the 1930s and 1940s. Hugely popular, he went on to pop up in paperback novels, radio serials, movies, and, yes, comics.
Dwayne Johnson is not the only actor linked to a modern incarnation of Doc Savage either. Back in 1999, well before Shane Black got involved, Arnold Schwarzenegger was rumored to be up for the part, though it was one of many projects shelved for his subsequent political career. Thor himself, Chris Hemsworth, talked about it at one point a few years back, but nothing ever came of that.
Who knows if or when we'll see Doc Savage, or, if that happens, if Dwayne Johnson will play the lead role, but the kid in me can dream, can't he?
Your Daily Blend of Entertainment News
Thank you for signing up to CinemaBlend. You will receive a verification email shortly.
There was a problem. Please refresh the page and try again.