Early Spectre Reactions Praise The Film And This Specific Moment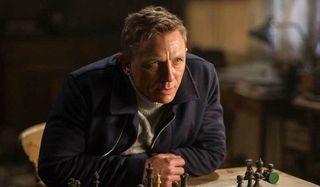 The latest James Bond adventure, Spectre, doesn't hit U.S. shores until November 6, but it opens in the U.K. next week. As critics across the pond just got out of the first screening, their reactions are starting to hit the airwaves, and they're honestly a bit mixed. Most are positive, and even the more negative leaning ones aren't terrible, but almost across the board, the opening is receiving copious amounts of admiration.
The bulk of those who saw Spectre are singing its praises high and loud. Here is just a smattering of those tweets and responses that fall on the wildly positive side of things:
But not all of the folks who saw Spectre had such an overtly enthusiastic response to the iconic super spy's latest big screen endeavor. None of the reactions I encountered were out and out bad, though a good number were far less glowing.
One of the main issues many critics seem to have taken with the film is that it doesn't live up to its predecessor, 2012's Skyfall, which may be an unfair comparison. Not only did that movie go on to earn more than $1 billion at the worldwide box office, it was heaped with acclaim, award nominations (it won an Oscar for Best Original Song), and was heralded as one of the best Bond films if not ever, at least in recent memory. Needless to say, Spectre has some rather large expectations to live up to and, at least according to some, it doesn't quite meet them. Here's what people are saying on that front.
Whatever people think about the movie as a whole, good, bad, mediocre, there is one element that it appears damn near everyone can agree is fantastic, and that's the opening sequence. This is a scene we've been dying to see since we first heard about it — set in Mexico City, it involves a massive Day of the Dead celebration, complete with a big parade and tons of striking, not to mention spooky, costumes and props. It sounds fantastic to us, and people are already calling it the highlight of the movie.
Spectre opens in the U.S. on November 6, but it hits theaters in the U.K. next week on October 26.
Your Daily Blend of Entertainment News
Thank you for signing up to CinemaBlend. You will receive a verification email shortly.
There was a problem. Please refresh the page and try again.