Why Spectre Will Likely Be A Huge Hit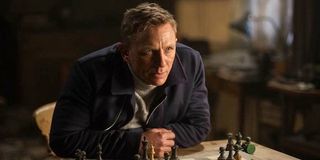 Easily one of the most anticipated films of the last quarter of 2015, many already expected James Bond's latest adventure, Spectre, to be a rather sizeable hit. Less than a month from release, that's still the case, but new estimates are predicting that it could become huge, starting with a potentially massive opening weekend.
According to The Wrap, industry folks who are well versed in this sort of prophecy are saying that Spectre could rule the box office with an $80 million-plus debut in just a few weeks. As the trade points out, this early tracking number, "intended more as a marketing guage than a box office forecast," is worth taking notice of because the final advertising deluge hasn't really started yet. We''re definitely on the downhill slope, and though we saw the final trailer, and a few TV spots have shown up, it's not everywhere just yet, but that will likely come in rather short order.
If this prediction does indeed pan out, this would put the 24th Bond film in the same general area as the last one, 2012's Skyfall, which earned $88 million its first weekend. That's not bad company to be in, as Skyfall eventually went on to earn north of $1.1 billion at the worldwide box office. It also earned a total of five Academy Award nominations, walking away with two statues at the end of the night—one for best original song, and the other for best sound editing. Part of the projected big opening for Spectre will be based on fans who loved the last film, but it will be interesting to see if is has the same legs and staying power.
Eon Production, MGM, and Sony, the folks behind both films, can only hope that their latest endeavor follows its predecessor to similar success. On the other side of that coin, however, Spectre has some big shoes to fill, and some rather lofty expectations to meet. Even if it's a success, but simply not as world-conquering as Skyfall, some might view it as a failure. What we've seen thus far looks pretty great, and most of us have nothing to gain if the movie performs well, so I don't really care if it makes money, I just want to see another awesome James Bond movie.
One thing that some predict that could impact Spectre's opening is that it goes up against The Peanuts Movie. There may not be a lot of crossover, but that could earn upwards of $50 million its first weekend according to some. Skyfall, on the other hand, was largely alone at the metroplex during its debut, so we will have to see how that shakes out, or if that has any bearing whatsoever.
Starring Daniel Craig as the iconic international man of mystery, and with Skyfall director Sam Mendes behind the camera once again, Spectre opens in the U.K. on October 26 and hit U.S. shores on November 6.
Your Daily Blend of Entertainment News
Thank you for signing up to CinemaBlend. You will receive a verification email shortly.
There was a problem. Please refresh the page and try again.