After Earth Release Date Moved Up A Week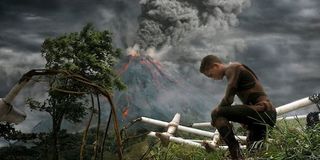 It looks like we'll be getting to see M. Night Shyamalan's sci-fi film After Earth a little bit sooner than expected. Sony has moved the release date of the movie up a week, setting the new date at May 31, which puts it up against Louis Leterrier's Now You See Me and horror-thriller The Purge. Had it stayed where it was, After Earth would have been squaring off against Shawn Levy's comedy The Internship.
BoM noted the date change, which indicates that After Earth will arrive in theaters May 31 as opposed to June 7, as originally scheduled. Not only does that shift move the film away from The Internship, but it also puts a bit more distance between the sci-fi thriller and the greatly anticipated Superman film, Man of Steel, which soars into theaters June 14. And after seeing the recent trailer, Steel is likely to soar at the box office. Of course, After Earth's new date sets the film closer to Fast 6, which arrives May 24. The all-star Fast and Furious sequel also stands a good chance of performing well at the box office and may pose some noticeable competition for After Earth.
After Earth stars Will and Jaden Smith as Cypher and Kitai Raige respectively, a father-son duo of rangers living in the distant future, long after mankind has abandoned an uninhabitable and dangerous Earth. When their ship crash-lands on earth and Cypher is hurt, his son must battle the elements and other threats that stand between him and their way off the planet. The trailers and TV spots for the film tease what could be a very thrilling sci-fi adventure story.
Your Daily Blend of Entertainment News
Thank you for signing up to CinemaBlend. You will receive a verification email shortly.
There was a problem. Please refresh the page and try again.