Eastern Promises 2 Moving Forward With Cronenberg, Mortensen And Cassell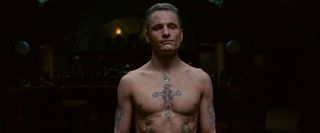 After A History of Violence, what was then his most mainstream success, director David Cronenberg reteamed with leading man Viggo Mortensen for Eastern Promises. The film about a 'more than meets the eye' henchman working for London's Russian mob earned Mortensen a Best Actor Academy Award nomination and ever since there have been ongoing whispers of a possible sequel. Vulture reports that almost the entire creative team behind the first film have finally agreed, or promised (huh? sorry), to return for Eastern Promises 2.
Cronenberg will once again direct a script written by Steven Knight, with Mortensen on board as Nikolai and Vincent Cassel in negotiations to reprise his role as Kirill. There is no mention of Naomi Watts but since her character wasn't exactly the most memorable (or necessary) part of the 2007 thriller, I wouldn't be surprised if she doesn't show for the followup. Also, when Cronenberg last talked about the project, all the way back in November, he noted how he felt like he wasn't finished with Nikolai's story and was looking to set at least some of the project in Russia.
At the time, the director was just waiting on his leading man to approve of Knight's script and it seems it's finally in place where Mortensen is ready to return. Picking up where the original left off, Eastern Promises 2 (if that is to be the title) would find Nikolai's undercover agent now at the top of the crime syndicate working alongside his former boss' son Karill. As a big fan of the first film, and all the talent involved, I am excited for the sequel but can't help thinking how they'll possibly top the naked knife fight. What do you think of the news? Are you excited for Eastern Promises 2 and the fourth film for David Cronenberg and Viggo Mortensen?
Your Daily Blend of Entertainment News
Thank you for signing up to CinemaBlend. You will receive a verification email shortly.
There was a problem. Please refresh the page and try again.