Eddie Murphy Explains Why He Keeps Putting Off Beverly Hills Cop 4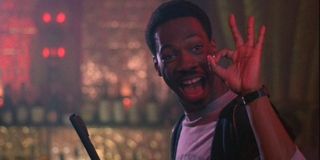 For about 20 years, news of a possible fourth Beverly Hills Cop film getting underway seem to sporadically come up, only to end in a false start. Despite that, attempts to revive the comedy franchise that essentially christened Eddie Murphy as a certified household name still continue. So, what is it that has been keeping this film from happening? Well, it seems that Murphy has been left once bitten, twice shy after the debacle that was Beverly Hills Cop III.
In an interview with Playboy (opens in new tab) (remember when that used to be a thing, pre-Internet adolescent boys?), Murphy discusses the twists and turns in his long and storied comedic career. However, when the Beverly Hills Cop franchise came up, it seemed to show that it's a topic for which Murphy has a proverbial banana shoved up his tailpipe. Almost similar to another recent interview when he implied that 1994's nonsensical theme park romp of a third film was "another shitty movie," he would this time call it "garbage." While his latest words seem to show kind of a love/hate relationship with the franchise, he is still very much in the market for a possible fourth film. When talking about international fans, he explained:
It's understandable that Eddie Murphy is choosing his roles with a huge degree of caution, seeing as he is one of the biggest examples in the annals of Hollywood of the consequences reaped by bad project choices. However, while Murphy shoots down rumors that it's filming next month, he does confirm that Beverly Hills Cop 4 is still happening. However, he reiterates his determination to find the right script.
Certainly Murphy's career, which was white-hot coming off the first BHC in 1984, churned out one comedic classic after another. However, as the 1990's approached, he took some serious missteps like Boomerang, Vampire in Brooklyn, and the aforementioned Beverly Hills Cop III, relegating Murphy to the "where are they now?" corner for a time.
However, a comeback hit in 1996 with The Nutty Professor would open the door for a new family-flexible PG-13 phase of Murphy's career. He would be defined by over-the-top characters and lowbrow humor in films like Holy Man, the lukewarm Doctor Dolittle series, culminating in the notorious bomb of all bombs in The Adventures of Pluto Nash, which made the studio an embarrassing $7 million for its $100 million budget. While Murphy found himself an iconic gig voicing Donkey in the monumental Shrek series, it was clear that his live-action career had whittled back to its 1990's lull. However, people still want to see him. This was especially evident when a 2013 attempt to bring Beverly Hills Cop to television with a pilot starring Brandon T. Jackson as Axel's son would never even make air, apparently due to the fact that a cameo by Murphy overshadowed the new star.
It will be interesting to see how Beverly Hills Cop 4 finally materializes. With that said, direct sequels, especially to what is now already a 31 year-old film, are especially problematic. From a marketing standpoint, it's difficult to see arithmophobic Hollywood execs being on board with anything labeled "IV" that isn't a campy horror movie. However, it could be the case that the new films take the idea from the aborted television pilot with Axel as the eccentric father of the main protagonist and turns up the comedy to a new level.
Your Daily Blend of Entertainment News
Thank you for signing up to CinemaBlend. You will receive a verification email shortly.
There was a problem. Please refresh the page and try again.