An Arrow Star Transformed Into Shrek's Princess Fiona For Halloween, And It's Perfect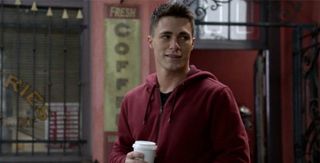 Colton Haynes just won Halloween! The Arrow star dressed up as Princess Fiona from the Shrek films, and - as you can see in these photos - he clearly went above and beyond to make sure that he did the ogre justice.
Haynes is clearly just a big kid at heart, and he fully got into the spirit of Halloween by purchasing prosthetics and getting professional make-up applied to himself so he could become the Cameron Diaz character from the Shrek films. In order to complete his heroic transformation, the actor had to go through a rigorous process that clearly took at least several hours to complete. Also he had to endure the repercussions of his costume choice the next morning too. And as his Instagram photos proved, he really didn't look pretty the morning after the night before.
But let's not jump ahead. First of all Colton Haynes had to apply bucket loads of green paint, I'm guessing with the help of an assistant or two. He then added a prosthetic nose and a huge double chin to complete his first step towards turning into the love of Shrek's life.
Colton Haynes' pain had only just begun, though. He then put on a rather lovely frock that Cameron Diaz's character wore in each of the animated adventures, as well as a maroon colored wig. He then set about covering the rest of his skin in green paint in order to truly inhabit the character. You can see a photo of Colton Haynes in his completed façade while in the full throes of partying below.
It's quite clear that the Arrow actor reveled in the online appreciation that his costume surely got too. The next morning he once again took to Instragram to show that he had woken up slightly beleaguered and still covered in light-green make-up. Unfortunately it looks as though his maroon wig didn't make it to the end of the soiree - which is a shame because it really tied the costume together.
A few hours later Haynes once again took to Instagram to show that removing his make-up was proving to be slightly more troublesome that he'd thought. In fact, he still had large parts of his face covered in green and he even looked as if he was now a tad alarmed about his new skin tone.
All you can really do is stand and applaud his efforts. It looks as though Colton Haynes has just raised the bar when it comes to Hollywood's finest's Halloween costumes. I for one can't wait to see how his peers react.
Your Daily Blend of Entertainment News