Edgar Wright Wants Disney's Cinderella For His Heist Pic Baby Driver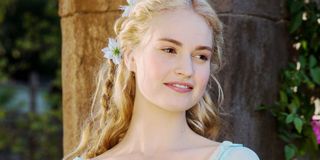 Edgar Wright's latest project about a young driver in the midst of a bank robbery gone wrong of course called for a love interest, and who better to fill those glass slippers than Cinderella herself, Lily James. Now, as Wright bounces back from his Ant-Man fiasco, he puts Ansel Elgort in the driver's seat, and hopefully Lily James lovingly watching from the side.
Negotiations of Lily James' casting are ongoing, but they come right as Cinderella crosses the $500 million mark just this week in the global box office, according to Variety. The young actress' recognition in the big budget Disney live-action film, alongside her breakout performance in the British hit series Downton Abbey has paved the way to more opportunities including a War and Peace mini-series and a starring role in Pride and Prejudice and Zombies. Wright looks to cast James as the female lead, a waitress in a diner who becomes the love interest to Ansel Elgort's getaway driver in the action-crime comedy.
Baby Driver tells the story of a young mute man whose ear condition forces him to constantly listen to music, basically in order to drown out the ringing that is always in his ears. The man is also a very talented getaway driver who works to be the best in the game, and his secret to success?—a killer soundtrack. When he is coerced into working for a big crime boss, a life-altering heist will threaten his love and his freedom. Essentially, it is a rock-and-roll car chase film, add that classic Edgar Wright humor. This is going to be good.
Wright is set to both write and direct Baby Driver. This will be the first time we see his magic come to fruition since back in 2013 with The World's End. In between that time, you may remember, Wright was signed on for Marvel's Ant-Man film. But almost a year ago, Wright parted ways with the property announcing that it was due to creative differences. The news shocked us all, as Wright had been excitedly working on the script for years prior. The final product is said to expand on many elements explored in Wright's original script, but it was a terrible upset to watch the beloved director who had dedicated so much time and passion to the project leave it all behind. Baby Driver marks his return after the surrounding Ant-Man drama, and it sounds like the perfect way to rock out and forget about the Marvel mess.
Details are slowly coming out about the film. So far the basic plot line and lead casting of Ansel Elgort are our only guarantees. If the deal close, we'll see Lily James aside the Fault in Our Stars star. More info on production and release dates are sure to come.
Your Daily Blend of Entertainment News