Eli Roth Goes Cloverfield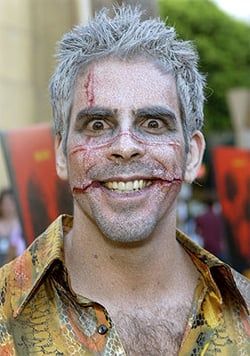 With Eli Roth underway on his own alien horror film Endangered Species, it's sort of a wonder that Shock Till You Drop is reporting that he's signed on to helm another presumably alien horror film being described as "Cloverfield-esque." Roth has already said about Endangered that it will be something involving lots of mass destruction like "Transformers or Cloverfield." So why the redundancy?
Nothing is said about exactly what they mean by that, whether it be that there's a giant monster terrorizing the city or if they mean it will be shot using the "found footage" style we've seen making a comeback over the past few years. Summit Entertainment will be producing so expect their cash machine Robert Pattinson to take the lead and narrowly escape whatever peril may lay ahead, since there will obviously be a sequel. Roth and producing partner Eric Newman will steer the boat.
Story details are brief, but it sounds like it's an alien invasion movie so depth of character will probably not be one of it's strong suits, especially in the hands of Roth. After a devastating subway crash, survivors emerge on to a "snowy", goo covered Los Angeles. Could this snow be the ear mites the Solomon family so feared in 3rd Rock From the Sun? All signs point to maybe.
The good news is that Roth has done some interesting things with horror, but his weakness so far has been the stories behind his films. Hopefully something with a little more substance beyond "guys pay to kill people" will produce an interesting a terrifying film.
Your Daily Blend of Entertainment News
Thank you for signing up to CinemaBlend. You will receive a verification email shortly.
There was a problem. Please refresh the page and try again.