Elizabeth Olsen And Dakota Fanning Toy With Sex And Boys In New Very Good Girls Trailer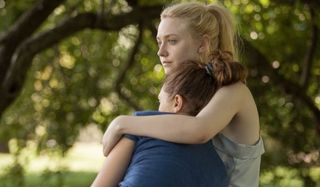 After playing a wife and mother in Godzilla, Elizabeth Olsen is reclaiming her youth in the coming-of-age drama Very Good Girls. Here she co-stars with Dakota Fanning, and as you can see in the trailer above, both play beautiful girls who are navigating the tricky path from childhood to adulthood.
Written by first-time director (and mother to Jake and Maggie Gyllenhaal) Naomi Foner, Very Good Girls stars Dakota Fanning and Elizabeth Olsen as Lily and Gerry, best friends trying to make the best out of their last summer in New York City before college starts. Having left high school behind, these young women are perhaps too eager to grow up fast, making a pact to lose their virginity before summer's end. But rivalry arises when they both begin to crush on a handsome young artist played by Boyd Holbrook (The Host). Also in the mix is Peter Sarsgaard as a flirtatious older man/boss of Dakota's good girl Lily.
Also on board for this tender indie are Demi Moore, Richard Dreyfuss, Ellen Barkin, and Clark Gregg. Adding to its appeal is a soundtrack featuring new music from Rilo Kiley's Jenny Lewis.
We first got word on this production back in the spring of 2011, when Very Good Girls was being shopped at Cannes with Dakota Fanning, Elizabeth Olsen, and Peter Sarsgaard already attached. At that time, so were Dustin Hoffman and Sissy Spacek, but it seems they have since been replaced by Richard Dreyfuss and Ellen Barkin. The following January, Anton Yelchin was in talks to join, presumably for the role that ultimately went to Boyd Holbrook. At that time, Foner gave some insight into her script, saying:
One note: when you cast Dakota Fanning and Elizabeth Olsen, no matter how emotionally immature their characters might be in the film, they read as "stunning young women" now. Moving on.
Joining the new trailer, we now also have the first released still from Very Good Girls, which sadly only gives facetime to one of the two leads.
Principal photography on this drama began on location in New York City in the summer of 2012. Very Good Girls made its world premiere earlier this year the Sundance Film Festival, and now Tribeca Film is bringing it to theaters on July 25th.
Your Daily Blend of Entertainment News
Staff writer at CinemaBlend.