Emma Stone's 10 Best Performances, Ranked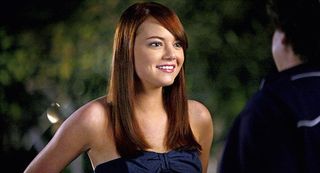 It's hard to imagine a time before Emma Stone existed in film. But, before 2007, the actress had barely touched any segment of the entertainment industry. After her first appearance on TV as a 16-year-old on In Search of the Partridge Family, Stone then went on to make appearances in a few shows including one particularly angsty role in Lucky Louie and then in 2007 she took the big screen as Jules in Superbad and the magic began.
Now, the 26-year-old actress has shown off her chops in an array of genres, and is currently up for her first Academy Award nomination for Best Supporting Actress in the film, Birdman. In less than eight years, Stone went from quirky teen playing a minor role in a comedy blockbuster to critically-acclaimed actress, with award nominations and even a run on Broadway as the leading role in Cabaret. Her career may only just be beginning, but it has been an incredibly enjoyable journey over the years for her fans. And now in honor of her first Oscar nomination, let's take a look at her 10 best performances, ranked.
10. The House Bunny
After her debut on Superbad, Stone starred in a number of silly rom-coms including the ridiculous House Bunny. The film follows Anna Faris as a former Playboy bunny who signs up to become a house mother at an misfit university sorority headed by a geeky Emma Stone. Her quirky, nerdy charm is some of the best material in the film, and though her role was small (yet bigger than that of Superbad) it gave audiences another taste of her unique charm, and made us want more.
The coming-of-age comedy explored what it means to be 'sisters' and friends, and while Emma Stone may arguably be a bit too pretty to pass off as the nerdy girl, her portrayed awkwardness makes it believable.
9. Zombieland
With zombie movies releasing left and right at the time, it was questionable how unique a zombie comedy could really be. That was until you formed a cast including Woody Harrelson, Jesse Eisenberg and Emma Stone. The film not only received critical acclaim, but was a commercial success beating out the record as the top-grossing zombie film as of date. And of course, Stone's performance as the con-artist queen, Wichita was the perfect addition.
What made Zombieland so fantastic was that it didn't try too hard, it focused more so on the memorable characters and their dialogue than anything else. When you first meet Stone she seems innocent and minor, but her performance is anything but, and brings her out of the shadows of Harrelson and Eisenberg as one of the leading roles.
8. Magic in the Moonlight
What could have been a bland and somewhat pointless film because of a clichéd screenplay turned out to be a fun, light-hearted romantic comedy pairing Academy Award winner Colin Firth with a youthful and charismatic Emma Stone. Stone played Sophie Baker, a clairvoyant and mystic who travels to the French Riviera to practice her supernatural skills on rich and desperate customers. But, Sophie is more than just a con-artist, and as Firth's character, a world-renowned illusionist comes to expose her as fraud, the two quickly fall for each other.
Stone plays the clairvoyant perfectly though. She gives subtle hints to the audience that her character may not have the powers the others assume, but Firth's character becomes convinced of her authenticity despite his own hesitations. Some critics argued her acting was too modern for the period piece, but I found it to work perfectly with the mystical and colorful atmosphere surrounding the characters.
7. Paper Man
Paper Man was a 2009 independent comedy-drama with overall negative reviews, but among a cast of experienced and acclaimed actors, Emma Stone was the only one who really shone. The plot followed a failed novelist played by Jeff Daniels who moves to a beach community for a summer to overcome writer's block. There he meets 17-year-old Abby, portrayed by Stone and a strange yet necessary friendship blossoms.
Stone's character is a troubled high school girl who recently lost her twin sister, and has not found good people to surround herself with. But, it is through all of the character's flaws that Stone is able to shine, stealing the show among Daniels, Lisa Kudrow, and Ryan Reynolds. Her performance carries the entire film and proves that even among more experienced actors, she can still thrive.
6. The Help
Adapted from the Kathryn Stockett's novel of the same name, The Help reached high critical acclaim as well as box office success, receiving four Academy Award nominations with Octavia Spencer bringing home the Oscar for Best Supporting Actress. It was a powerful ensemble cast that took on difficult themes to expose the reality of the Civil Right era in Jackson, Mississippi. And among them, Emma Stone, who still was able to hold her own aside a group of critically-acclaimed actors.
Stone portrays Eugenia "Skeeter" Phelan, a college graduate and aspiring writer who decides to pen a book from the perspective of the maids in an attempt to expose the harsh racism that they face. Stone's character gave her the opportunity to show her chops in a more serious setting, and she was able to demonstrate believable empathy and sensitivity in a role that helped gain her even more recognition of her talents.
5. Superbad
In Stone's feature film debut, she played a minor role, the childhood crush of protagonist Seth played by Jonah Hill. But in the little screen time she does have, she shows us what it means to be a 'cool' girl. The cool girl who can get a black eye and joke about it even though she has to get her senior portrait in the days following, and the cool girl who can subtly flirt with Jonah Hill after he was the accidental cause of the black eye.
It went beyond the writing of the character, it was Stone's portrayal that made it authentic. She can squint her eyes, and drop her chin and look straight into the camera, and it is just gold. The teen comedy may have followed the adventures of Michael Cera and Jonah Hill's characters, but it was the few scenes featuring Stone that are most memorable of them all.
4. Crazy, Stupid, Love
Leave it to Emma Stone to turn a womanizing Ryan Gosling straight. In a film that was dominated by Ryan Gosling's stellar performance (which granted him a Golden Globe nomination) Stone was still able to take center stage at times, even as a more minor role aside Steve Carell, Julianne Moore and Gosling. And, like she did so well in previous films, Stone was able to combine her flawless delivery of witticism along with a subtle sexiness that gave her far more depth than a simple love interest.
This performance in Crazy, Stupid, Love also showed Stone in a new, older role that gave her the opportunity to play up her adult appeal while still giving the character authentic characteristics. She was able to show a down-to-earth persona through simple facial expressions and mannerisms, and it was truly a terrific performance.
3. Birdman
What may win the Best Pictures at this year's Academy Awards could not have reached that status without the help of Stone's supporting role. Up herself for an Oscar for the Best Supporting Actress, Stone portrays a recovering addict fresh out of rehab and currently mending to her washed-up father as his personal assistant. Birdman, Or The Unexpected Virtue of Ignorance shows Stone in a new light and proves her range and versatility. While straying away from her normal comedic roles, Stone gives a fresh look at a struggling twenty-something in search of an adrenaline rush to liven up a mundane world.
There are so many incredible moments in this film that deem Stone worthy of the Oscar this year, but one scene in particular continues to give me chills even just thinking about it. As Stone's character Sam, goes off on her father played by Michael Keaton, telling him that there is an entire world out there where people fight to be relevant every day, she does so with such power and strength, it is truly magic to watch.
2. The Amazing Spider-Man 2
It was no easy task portraying Gwen Stacy in the two Amazing Spider-Man films with all of the mixed reception towards the franchise. But, by the second film, Stone's character stole the show, and in a film that tried to do too much, Stone kept her performance grounded and genuine, making The Amazing Spider-Man 2 basically, The Amazing Gwen Stacy And Beau. To give her co-star his due credit, it wasn't just Stone who stole the show, but also the chemistry between the two real-life love-birds whose quirky love affair was one of the few redeeming qualities of the film.
The two did their best to save a film that was pretty much doomed from the start with too many character arcs and an unfocused narrative. But if you just cut to all the scenes with Stone, there's no denying that there was greatness in the film. She was charming, humorous and portrayed almost every emotion in the film (she laughed, she cried, she loved, she spoiler died) and did so with such ease. She brought a brightness to the film that wouldn't have existed with just any actress playing to the script, and saved what could've been a complete bomb.
1. Easy A
Olive Penderghast is everything but your average teen. She's smart, witty, secure and most importantly she deeply cares about others. The protagonist of this films is one of the best I've seen in teen rom-coms, and the film itself is much more unique and interesting than your run-of-the-mill high school love story. But why is this film so successful? Because of Emma Stone.
Having been nominated for Best Actress at the 68th Golden Globes for her portrayal of Olive Penderghast, this was the defining moment for my own (as well as countless others) adoration of Stone, and turned her around from an underrated young actress to a leading star. The role was a perfect fit to showcase Stone's talents including her unmatchable facial expressions and comedic timing all while keeping her character seem completely genuine. Like her character, Stone showed the personality and wit of someone well beyond her years. She not only carried the film, but gave it a refreshing and natural feel.
Your Daily Blend of Entertainment News