Emma Thompson Pretty Much Threw The Harry Potter Franchise Under The Knight Bus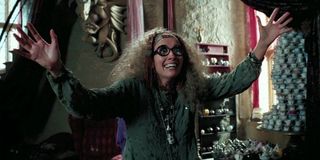 Emma Thompson made a not-so-subtle quip about the Harry Potter franchise during her speech at the British Independent Film Awards in London on Sunday evening. The legendary English thespian made her somewhat controversial comments after picking up the Richard Harris Award for outstanding contribution to British film.
According to the Hollywood Reporter, as she clasped the gong in her hand, Emma Thompson decided that this would be the perfect opportunity to voice her exact thoughts on the mistakes that she has made in her career.
Looking back on Emma Thompson's rather fabulous career there really is only one franchise she could be talking about. The 55-year-old actress portrayed Professor Sybill Trelawney in three Harry Potter films, which included Harry Potter and the Prisoner of Azkaban, Harry Potter and the Order of the Phoenix and Harry Potter and the Deathly Hallows Part 2. But how can she not have enjoyed playing such an adorably aloof character? Just look at her.
However there is also an outside chance that she could have been talking about her appearance in another of her films. Maybe she was chastising her brief turn in Men Black 3, or her un-credited portrayal as Dr Alice Krippin in the opening scene of I Am Legend or even her performance as Arnold Schwarzenegger's love-interest in 1994's Junior. There's even a suggestion that her portrayals as Nanny McPhee in the 2005 fantasy film and its sequel, Nanny McPhee Returns were the intended recipients of her "attack." But the fact that she also wrote the latter two films means that she would only have herself to blame if she didn't like the character she portrayed.
Really it doesn't matter which of the "large studio films" Emma Thompson was talking about because either way I'm a tad disappointed in the always amicable and loveable British national icon. It just seems beneath her to have attacked these films in such a public place, several years after they were originally released, when no one else associated with the film would have a chance to respond. I don't doubt for a second that she was only trying to be self-deprecating in lieu of collecting the award. But by basically attacking the Harry Potter franchise she has only really ended up criticizing the millions of fans that adore each of the films. And that's just plain mean.
Surely she should have apologized for Maybe Baby or The Love Punch, instead.
Your Daily Blend of Entertainment News