Emma Watson Named Fifty Shades Of Grey Lead In Hacked Documents, But Universal Denies It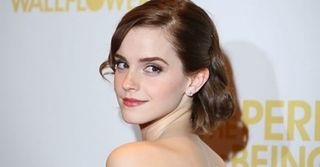 We're still wondering just what has Focus Features and Universal dragging their heels about this Fifty Shades of Grey movie. The big-screen adaptation of the book that was totally ever-present a year ago was announced at the height of its popularity last spring, but aside from hiring a screenwriter in October, the studio hasn't made much progress toward making an actual film. No director hired, no cast in place. Nothing but promises so far.
A few weeks ago a hacker attack on the Germany studio Constantin FIlm circulated a rumor that Emma Watson was listed on internal documents as the star of Fifty Shades, playing the naive and eventually sexually adventurous heroine Anastasia. It seemed to confirm a long-standing rumor that Watson would take the role, but now Universal Pictures have stepped in the set the record straight-- sort of. Talking to USA Today (opens in new tab) the studio said "no one has been cast yet," leaving it at that.
Of course, "no one has been cast yet" can mean a whole lot of things, from them still not settled on a lead actor to a single actor still hashing out the contract with their lawyers. Watson's name wasn't found on those internal documents for nothing, after all, and it's very easy for a studio to say "no one" has been cast even if they have a certain actor very specifically in mind. As we've discussed recently, it's high time for this movie to get going if it happens at all, as the world moves on to the next publishing phenomenon and audience interest dies out. The Twilight movies were out even while the books were still being published. Can Fifty Shades really maintain that kind of interest even with the original trilogy long since published?
(Emma Watson image via Featureflash (opens in new tab) / Shutterstock.com (opens in new tab))
Staff Writer at CinemaBlend
Your Daily Blend of Entertainment News
Thank you for signing up to CinemaBlend. You will receive a verification email shortly.
There was a problem. Please refresh the page and try again.