This Is The End, American Hustle And Captain Phillips Show Their Stuff At CinemaCon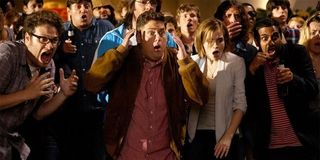 After Disney's big presentation this morning, which featured an extended look at The Lone Ranger and the first screening of Monsters University, it was Sony's turn this evening to show off their upcoming slate, which showed a good deal of material from just about every movie that the studio has coming out in 2013.
While most of the footage shown, from films like Elysium, Carrie, White House Down, After Earth, Cloudy With A Chance of Meatballs 2, Mortal Instruments: City of Bones, Grown Ups 2 and Smurfs 2, has already been released online or shown in some capacity to the press, there was still plenty of new stuff to get excited for, as detailed below!
This Is The End
We've actually seen quite a bit from This is the End as of late, between the WonderCon footage shown down in Anaheim last month and the recently released red band trailer and new clip, but the Seth Rogen and Evan Goldberg-directed comedy had even more to show the crowds at CinemaCon. In addition to some quick clips showcasing all kinds of giant horned demons and skull-faced zombies, the reel also delivered a hilarious fight between James Franco and Danny McBride.
In the scene, McBride and Rogen are busy digging a hole in the floor (for an unexplained reason) when Franco emerges on the floor above them holding a porno and complaining that somebody ejaculated all over it. McBride confesses to the deed, but is completely unapologetic about it, saying that he has no control over where he orgasms, and a huge argument breaks out between the two of them, capped with Franco saying that he's going to shoot McBride's dick off and McBride retorting that he doesn't have enough bullets. The movie arrives in theaters on June 12, and for more about it be sure to check out our own Katey Rich's set visit report and interview with the entire cast and the directors.
Captain Phillips
Back in 2009, Captain Richard Phillips was on a cargo ship off the coast of Africa when his boat was hijacked by Somali pirates. During the ordeal, the captain acted with incredible bravery and helped protect his crew members in the face of death, and it was clear even then that the story would make for an incredible film. Thanks to director Paul Greengrass and star Tom Hanks, that idea will come to fruition later this year, and tonight we got our first look at the movie.
The footage began with Phillips (Hanks) looking at a radar and growing concerned about two blips heading towards the ship. Looking into the distance he sees two skiffs, and decides to call it in for help. While the woman on the other line isn't too concerned about the situation, thinking that they are probably just fisherman, Phillips knows better and has his fears confirmed when the men on the skiffs begin to open fire. The captain and his crew try to get the pirates away by using hoses off the edges of the ship, and Phillips even attempts to hit one of them with a flare, but is unsuccessful. He warns his crew that they cannot let the pirates get their ladders attached to the boat, but the mission is unsuccessful and the pirates come aboard. We hear voiceover of Phillips telling his crew to take advantage of the fact that they know the inner workings of the ship and the Somalis don't. The final shot of the reel has a pirate holding a huge gun to Phillips' head saying, "Look at me – I am the captain now."
Captain Phillips arrives on October 11th.
American Hustle
Seeing as the movie is still deep in production, the presentation didn't deliver a great deal of footage from American Hustle, the new movie from director David O. Russell, but what it did deliver was a great sense of tone and style. The clip didn't feature much more than quick shots of the film's cast, which includes Christian Bale, Bradley Cooper, Jennifer Lawrence, Amy Adams and Jeremy Renner, but the various looks of the characters are absolutely fantastic.
Reminiscent of Argo, which is actually set in the exact same late-70s time period, both Bale and Cooper sport heavy beards (with the former in yellow-tinted aviator sunglasses); Renner was seen wearing a white suit and a pompadour hairstyle; and Lawrence and Adams were shown dressed stunningly, the Silver Linings Playbook star shown in a beautiful white dress and The Fighter actress' shoulders cloaked with a fur. The film won't be in theaters until December, so it will be a while before any footage becomes widely available, but it looks as though the film could be a highlight of this year's award season.
For more of our CinemaCon 2013 coverage head over HERE!
Your Daily Blend of Entertainment News
Assistant Managing Editor
NJ native who calls LA home and lives in a Dreamatorium. A decade-plus CinemaBlend veteran who is endlessly enthusiastic about the career he's dreamt of since seventh grade.
Your Daily Blend of Entertainment News
Thank you for signing up to CinemaBlend. You will receive a verification email shortly.
There was a problem. Please refresh the page and try again.