The Entity Is Getting Remade For Some Reason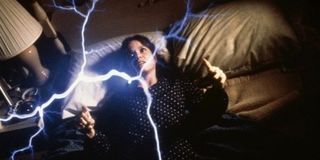 He may have a billion-dollar-earning movie under his belt with Furious 7, but director James Wan is a hardcore horror fan. Now he's returning to his genre roots, bringing along some of his co-conspirators from The Conjuring, and remaking one of the most unlikely horror joints from the 1980s.
According to The Hollywood Reporter, Wan has enlisted The Conjuring screenwriters Chad and Carey Hayes to help him adapt the early '80s horror outing The Entity (it was originally scheduled to be released in 1981, hit some international markets in 1982, and finally opened in the U.S in 1983). At the moment, Wan is not slated to direct, only produce, but we hope he decides to take the helm eventually.
Despite the fact that Martin Scorsese has said that he considers The Entity one of the scariest horror films of all time, it's an interesting choice to remake. Then again, it's fairly popular with staunch genre heads, but it's not so well known that everyone already knows the story, and it will feel fresh to most audiences. My basic point is that this is a fairly deep cut, and certainly one that shows Wan's extensive love for and knowledge of the genre where he cut his teeth.
Starring Barbara Hershey and Ron Silver, The Entity is, like The Conjuring, based on a supposedly true story about a woman who is beleaguered and even sexually assaulted by a malevolent demonic spirit. When single mother Carla Moran (Hershey) is raped, beaten, electrocuted, and just horrifically tormented by an invisible assailant, she tries everything she can to make it stop. A psychiatrist (Silver) thinks she inflicted these wounds on herself—she has a troubled past of abuse—and, also like The Conjuring, she eventually turns to a couple of paranormal investigators for help.
This has all of the elements in place for Wan and the Hayes to turn out something super creepy. Riding high on the success of Furious 7, he can do just about anything he damn well pleases in the near future, and it's cool that, even though he's in demand right now, Wan, who was previously most known for movies like Saw and Insidious, is sticking with what he loves. The Entity isn't his only low-budget (or at least low-budget style, he'll likely have more money to play with than most similar films) horror flick he has in the works, as he is slated to direct The Conjuring 2: The Enfield Poltergeist and produce Insidious: Chapter 3 relatively soon.
Roy Lee, who has produced everything from The Ring and The Departed to the upcoming The Lego Movie Sequel and How to Train Your Dragon 3, is on board to serve a similar role on The Entity. There's no timeline for this, yet, but we can always use another good horror movie to creep us out, so we hope it's sooner rather than later.
Your Daily Blend of Entertainment News