Eric Bana And Danny Huston Playing Elvis And Richard Nixon For Cary Elwes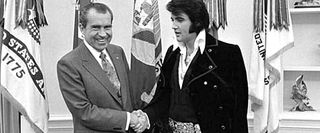 Elvis Presley and Richard Nixon might be equally important figures in American history, but you usually think of them a little separately-- Elvis is all about the Eisenhower 50s, while Nixon defined the 70s with his own scandal and resignation. But of course, Elvis didn't die until 1977, so his public life intersected with Nixon's by a lot-- and in a movie directed by Cary Elwes, of all people, we'll see exactly how that happened.
According to Variety, Erica Bana will be swinging his hips in white pleather to play Elvis, while Danny Huston will play Nixon, in the appropriately titled indie Elvis & Nixon. Elwes wrote the script with Joey Sagal and Hanala Sagal based on a real-life event, when Elvis visited the White House in 1970 to suggest himself as a "Federal Agent-at-Large" in the war on drugs. He also brought the President family photos and a Colt 45 pistol as gifts, because when you're Elvis, you play by our own rules.
Though Bana is a touch older than Presley would have been in 1970-- Elvis was 35, Bana is now 43-- his casting is the most intriguing thing about this very, very strange sounding project. He became famous for playing the grim heroes Hector in Troy or Amer in Munich, but the fact that so few people saw his loose and funny performance in Funny People means that his comedic skills are still underestimated. It doesn't sound like Elvis & Nixon will be a comedy, exactly, but it will require Bana to really go out there to play the King; it's a challenge he's more than capable of, and it should finally give him a chance to show off the range he's usually been denied so far.
Production is set to happen in Los Angeles and Shreveport, Louisiana, though there's no date in place yet.
Staff Writer at CinemaBlend
Your Daily Blend of Entertainment News
Thank you for signing up to CinemaBlend. You will receive a verification email shortly.
There was a problem. Please refresh the page and try again.