Old Fashioned Trailer: Christians Now Have Their Own Fifty Shades Of Grey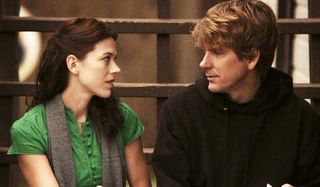 This Valentine's Day most of us expect Fifty Shades of Grey to run away with the box office weekend. But one indie romance is looking to do David vs. Goliath-style battle against this pop culture phenomenon. Take a look at Old Fashioned below:
Old Fashioned is a romance about Clay, a former frat dude who meets a free-spirited young woman named Amber. He's interested in her, but turned off by the modern mores of dating. "Fact: most people know more about someone after a job interview for delivering pizzas than they do after most dates," laments the movie's male lead. He's mocked for his intellectualizing, but he wants to date in an old-fashioned (read chaste) way. Underlining the theme of how Clay's perspective is out of fashion, he owns an antique shop. But since when does a romance movie not reward its quirky hero for his unconventional devotions?
Written, directed and starring Rik Swartzwelder, Old Fashioned is a "Christian" movie in that it offers a romance where sex will wait until marriage and God is a crucial part of its hero's journey. It's an approach that Swartzwelder realizes will limit the audience of his movie. But--he argues in Old Fashioned's preamble--it's a movie he feels needed to be made.
There's been a rise in the niche of faith-based filmmaking of late. Rick Santorum moved from politics to entertainment to create conservative cinema. Heaven is For Real got a wide release. And two major auteurs will offer two biblical epics before the year's out, thanks to Darren Aronofsky's Noah and Ridley Scott's upcoming Exodus: Gods and Kings. Hey, even Kirk Cameron is back on the scene, trying to save Christmas. But there are often several pitfalls for projects such as these.
A major one is that in their attempt to be wholesome, some faith-focused filmmakers manifest a movie that looks well intentioned, but far from entertaining. (Take a look at Kirk Cameron's Saving Christmas trailer for an idea of that.) The other pitfall is that by being too overtly preachy, that approach might turn off all but the most zealous Christians. Remarkably, this trailer seems evidence that Old Fashioned has avoided both these snares. Leading lady Elizabeth Roberts has a radiant smile. When it shines, don't you want to see her fall in love?
This is a solid trailer. But Rik Swartzwelder deserves major props for his savvy marketing move of pitting his movie against Fifty Shades of Grey. Yes, on one level, it's going to be a slaughter. One movie has hot young stars, steamy trailers, and the precursor of a bestselling book trilogy that made "mom porn" a thing. Make no mistake: Old Fashioned will get creamed by Fifty Shades of Grey at the box office.
However, this is a brilliant move in counter-programing. Not only does Old Fashioned offer a friendly alternative to moviegoers turned off by Fifty Shades of Grey's salacious story, but it also offers the sense of being part of a movement of rebellion against our current sex-saturated zeitgeist. Plus, by linking itself to Fifty Shades of Grey, Old Fashioned gets the attention of mainstream movie news outlets that might not otherwise have noticed its charming trailer.
Well played, Swartzwelder.
Old Fashioned opens February 14, 2015.
Your Daily Blend of Entertainment News
Staff writer at CinemaBlend.
Your Daily Blend of Entertainment News
Thank you for signing up to CinemaBlend. You will receive a verification email shortly.
There was a problem. Please refresh the page and try again.