Did Vin Diesel Just Confirm The New Fast & Furious 8 Director?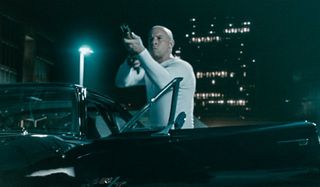 When it comes to news about the Fast and Furious franchise, Vin Diesel's Facebook page has proven to be a (pretty) reliable source. The actor, who plays Dominic Toretto in the films, previously revealed release dates, movie stills, and titles on his social media. Now, Diesel might have just revealed who will follow James Wan in the director's chair for Fast and Furious 8, though we'll still want to hold our excitement for an official confirmation. Check out his update below.
As you can see, Vin Diesel posted a photo of himself posing next to F. Gary Gray, who directed Universal's successful N.W.A. biopic Straight Outta Compton. In the middle is a board covered in images from the Fast and Furious films, so while there's no caption or any other information to go along with this photo, this level of teasing is akin to what Diesel typically posts. (Note: he even made this his new header image.)
Universal did not immediately respond to Cinema Blend's request for comment.
Diesel's post comes a few days after he published a lengthy update stating how Paul Walker always wanted Rob Cohen to direct at least one more movie in the series after he helmed The Fast and The Furious. However, yesterday we learned from insider reports that the director's shortlist had been narrowed down to four names — Adam Wingard (The Guest), Louis Leterrier (Now You See Me), Will Eubank (The Signal), and, yes, Gray. At the time, Variety stated that the Straight Outta Compton director was at the front of the pack, which makes this latest photo from Diesel additional fuel to the flames.
It all makes perfect sense. F. Gary Gray — who previously directed The Negotiator, The Italian Job, and Law Abiding Citizen — helmed one of Universal's biggest money makers. In a year that also saw the studio release Fifty Shades of Grey, Jurassic World, Minions, and Furious 7, Straight Outta Compton pushed the studio's revenue past the $2 billion mark at the yearly domestic box office. Furious 7 is currently the fifth highest-grossing film of all time, just behind Marvel's The Avengers, and with James Wan busy directing The Conjuring 2 and Aquaman later on, Universal needs someone capable.
According to reports, there were some disagreements behind the scenes as to who would direct Furious 8, with some even suggesting Vin Diesel would step up to the plate himself. In yet another Facebook post, he wrote how his mom suggested he helm the feature himself. Though, for the sake of everyone involved, perhaps its a good thing that Gray is looking like the best option.
Specifics on where Furious 8 will take the franchise next is still unclear, but Diesel teased that the action will head to New York City and that the film will be part of a trilogy that will close out the franchise. The film is currently scheduled for release on April 14, 2017.
Your Daily Blend of Entertainment News
Thank you for signing up to CinemaBlend. You will receive a verification email shortly.
There was a problem. Please refresh the page and try again.