The Fear Monger: Friday The 13th May Bring Back This Iconic Character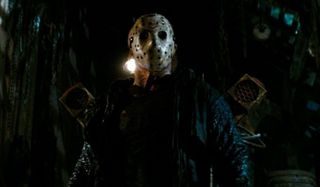 Good day, horror fans. The scariest thing about this week might just be the complete lack of big horror releases in theaters. Arguably the biggest debut is Gregory Levasseur's Egypt-set supernatural horror The Pyramid, but it wasn't even given that wide of a berth. (It isn't playing where I live, which may or may not be inside of a haunted pyramid.) There's also Erik Skjoldbjærg's Norwegian thriller Pioneer, but that's got an even smaller release window. On the VOD front, December 5th saw the release of the thriller Poker Night, which stars Ron Perlman, Titus Welliver, Giancarlo Esposito and Ron Eldard. (Go watch The Babadook if you haven't yet.)
In smaller news, Uwe Boll has taken to Indiegogo to try and fund the presumably violent sequel Rampage 3: No Mercy. (Why?) The highly anticipated sci-fi thriller Z for Zachariah, starring Chiwetel Ejiofor and Chris Pine, will make its debut at next year's Sundance Film Festival. And Monsters: Dark Continent writer Jay Basu has been tapped by Universal to join the monster-centric cinematic universe they're trying to cook up, though no specific project was noted.
And now, to camp with all of you!
Next Friday the 13th May Hit the 1980s with a Familiar Character
It's entirely possible that this next Friday the 13th movie is just going to be a string of rumors about a film that's never really going to exist, with the "real" Jason Voorhees being the horror community's curiosity. But if the movie WILL exist, then it might be set in the 1980s, and Jason's mother Pamela may play an important part - but it won't be a sequel or another reboot or anything. That was the completely coherent partial description given by Platinum Dunes producers Brad Fuller and Andrew Form at Brazil's comic con CCXP. Here's how they put it, according to Omelete. (Note this is a website translation, so it sounds rather wonky.)
So this is basically going to be like a shadow version of the original film? I wasn't too impressed with 2009's story-free reboot, so I'm partially glad that Platinum Dunes has taken this long to vet a follow-up concept. There's something exciting about the series going back into the 1980s, tethering it to the original timeline, despite the fact that it'll probably be handled clumsily. There's a huge guilty pleasure factor in potentially hearing "Kill her, Mommy," again on the big screen. At different points in this project's lifespan, it was going to be a found-footage movie, and then it was going to incorporate 3D, so we're taking these new details with a grain of salt. Luckily, the producer duo confirmed that this next Friday the 13th will push an R-rating when (or if) it comes out on November 13, 2015.
First Look at Keanu Reeves' Female Troubles in Knock Knock
One would think that an Eli Roth-directed flick with Keanu Reeves in it would have a pretty big bubble of buzz surrounding it, but the upcoming thriller has been creeping forward rather quietly. Thankfully, we now have our first decent look at what we can expect: a potential threesome gone very wrong. You can see Reeves sitting above with co-stars Lorenza Izzo and Ana de Armas, where everything looks hunky dory. And then this happens:
Said to be Roth's version of a Roman Polanski psychosexual thriller, Knock Knock stars Reeves as a married man who stumbles upon a fantasy experience with two beautiful ladies - but they have other plans. From their perspective, this is a home invasion, and they're there to make Reeves' life a living hell, though their motivations are being kept in the dark for now. The man who is John Wick has to resort to using a knife and a pan to defend himself in the next still.
Knock Knock will make its world premiere at the Sundance Film Festival in January. Will this be the next step in Reeves' return to headlining great movies?
It Follows Trailer is Creepy, Subtle and Excellent
While Hollywood horror continues its color-by-numbers storytelling, the indie scene has really turned out some genre gems this year, and It Follows has earned acclaim from nearly every one of the plethora of festivals it has screened at. The film's first trailer has made its way to the Internet via France, and non-festival crowds finally have an understanding of what David Robert Mitchell's sophomore effort will be. It looks like a perfect piece of low-key awesomeness, luckily, and the blurbs shown off therein do a good job of setting up huge expectations.
It Follows is a film about creeping dread, which is what this trailer perfectly inspires. It centers on Maika Monroe's Jay, a young girl whose life should be one of mostly carefree routines involving college and friends, but a sexual tryst leaves her feeling plagued and unable to escape an unseen evil presence. She and her friends have to figure out what's happening and try to stop it. (Naturally.) Most horror sub-genres are about dangerous threats chasing people, but this seems like it's a little bit different. It Follows will black out your eyes when it hits theaters next year at some point, and you won't be able to get it out of your head. And then you'll need your teenage friends to help you figure out how to stop it.
First Look at Adam Green's Digging Up the Marrow
Director Adam Green has amassed a sizeable fanbase over the years with his Hatchet franchise and the TV series Holliston, and he's inviting everyone to go monster-hunting with him for his new thriller Digging Up the Marrow - which now has a new poster and a few new stills. Any movie with weird looking creatures AND Ray Wise is going to get an instant watch from me, although these images don't really do much to tease what'll happen.
Presented as a documentary, Digging Up the Marrow sees Adam Green playing himself and making a doc about monster art, complete with appearances by genre vets like Don Coscarelli and Kane Hodder. Things take an odd turn when Ray Wise's William Dekker shows up claiming he has evidence that real monsters exist, inviting Green to find one with him. Here's one of the monsters, I guess.
Digging Up the Marrow, which was picked up by Image Entertainment, will hit theaters and VOD at some point in 2015.
Spike Lee's Ganja and Hess Remake Gets a Bloody Trailer
Spike Lee, a director known for making films with statements behind them, caused quite a stir when he announced he'd be directing a horror-ish non-vampire movie through Kickstarter - and things got even weirder once he let it slip that he was sort of remaking the classic 1973 drama Ganja & Hess. Thankfully, the film's first trailer looks like a genuinely interesting throwback, although it's overlong and appears to show things from every single scene in the movie. Blood! Sex! Blood! Sex!
Stephen Tyrone Williams plays Dr. Hess Green, whose time spent with a cursed relic inspires an insatiable thirst for blood, though it's outside the normal realm of fictional bloodsuckers. Ganja Hightower (Zaraah Abrahams), the wife of the curator who showed Hess the artifact, enters a dangerous affair with Hess and the very concepts of love and desire are turned on their heads. The acting looks solid, the direction looks assured and the storyline is a nice exception to the genre's sometimes generic output. I'm down. Da Sweet Blood of Jesus Christ will hit theaters and VOD on February 13, 2015.
Nick is a Cajun Country native, and is often asked why he doesn't sound like that's the case. His love for his wife and daughters is almost equaled by his love of gasp-for-breath laughter and gasp-for-breath horror. A lifetime spent in the vicinity of a television screen led to his current dream job, as well as his knowledge of too many TV themes and ad jingles.
Your Daily Blend of Entertainment News
Thank you for signing up to CinemaBlend. You will receive a verification email shortly.
There was a problem. Please refresh the page and try again.