The Fear Monger: A PG-13 At The Mountains Of Madness And A South Korean Family Castration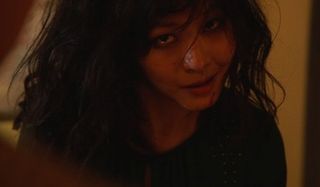 Good day, deviliers of all things eggy. Has everybody run out to watch Deliver Us From Evil yet? Not that reviews have been overwhelmingly positive, even from horror fans - but any horror given the chance to go big on Fourth of July weekend deserves some attention. I guess you could go and watch Tammy with a Scary Sounds of Halloween tape playing through your headphones, but that doesn't seem as effective.
On the small news tip, Juno Mak's acclaimed haunted house action flick Rigor Mortis has been tapped for an almost immediate July 8th release on Blu-ray, DVD and VOD, from Well Go USA Entertainment. According to Box Office Mojo, Leigh Whannell's Insidious: Chapter 3 has pushed its release date back from April 3, 2015 to May 29, 2015. Finally, the Twentieth Century Fox Home Entertainment-produced The Exorcism of Molly Hartley, the sequel to 2008's lackluster The Haunting of Molly Harley, began production this week with new cast additions Devon Sawa (Final Destination) and Gina Holden Final Destination 3.
And now, everyone's favorite young adult cosmic horror author, P.G. Lovecraft.
Guillermo del Toro May Lighten Up At the Mountains of Madness To Get It Made
During a recent interview with the Wall Street Journal's SpeakEasy, the imagination-oozing filmmaker Guillermo del Toro got monster movie fans in a tizzy over Pacific Rim 2 updates, but horror fans will be a lot more interested in another piece of the interview where he's asked about the long-gestating H.P. Lovecraft adaptation At the Mountains of Madness. His response, both disheartening and invigorating, was this: they may have to turn it into a PG-13 movie in order to make the studios happier to back it.
I'll forgive you for barfing in your mouth, but it may not be so bad. Lovecraft's At the Mountains of Madness is a professor's warning to others of the horrors hidden in Antarctica, as told through one man's account of disappearances, aliens and elder things. Now that the previously interested Legendary and Universal Pictures are in cahoots, it's more likely than ever that they'll agree on putting the flick into production, so long as they can guarantee themselves the widest audience possible. If anyone can make a PG-13 movie legitimately frightening, it's del Toro. There's really no point in complaining or championing the rating, since it's all still years away anyway. Sorry to start this feature off with such a bummer, guys.
Moebius Trailer Will Make You Cherish Your Family Situation
South Korean filmmaker Kim Ki-Duk has built a career out of ignoring expectations and normalcy, from the meditative bliss of 2003's Spring, Summer, Fall, Winter…and Spring to the Venice Film Festival favorite Pieta, and over a dozen movies otherwise. His latest effort, the dark drama Moebius, is about as far away from "family friendly" as you can get - though the U.S. trailer above (via BloodyDisgusting) doesn't quite get to the black heart of the matter. Check out the poster below and then we'll get into what this movie is about.
A wife and mother (Lee Eun-Woo) is highly upset after finding out about her husband's (Cho Jae-Hyun) extramarital affairs, but her revenge of castration takes an awkward turn when she cuts her son's (Seo Young-Joo) genitals off instead. And as the official synopsis puts it, this sets off "a series of grotesque yet provocative events ranging from a hurried genital transplant to pain-inflicted orgasms that all merge in a continuous threat of delirious storytelling." (So I'm forgiven for masturbating with a meat grinder while watching this?) This wacky tale of blood and lust will get a limited theatrical release throughout August and can be seen on VOD everywhere starting August 29. Invite your parents. Make it a party.
Robert Englund Hatches a Deadly Plan in The Last Showing Trailer
It's no big reveal to say that Robert Englund's non-Nightmare on Elm Street career has been full of bargain bin thrillers, but his latest pic, Phil Hawkins' mass revenge thriller The Last Showing, looks to be a head above most of the rest. Though it could be that I'm just hypnotized by bright colors. The first full-length trailer from Screen Media Films, seen above, presents a fairly derivative Saw-like story of misplaced anger and vengeance, but I'm admittedly a sucker for these kinds of limited location horrors, and what better location than a movie theater?
Englund plays a longtime cinema projectionist whose job is rendered moot through digital projectors. Since he doesn't have a job now or anything, he attempts to create his own horror movie, trapping a guy (Game of Thrones' Finn Jones) and a girl (24: Live Another Day's Emily Berrington) inside a multiplex, pitting them against a "horror movie plot" while capturing all of their fright and horror on CCTV cameras, as well as one that he holds himself. It probably won't be a masterpiece, but it's nice when a movie like this forgoes slasher movie kills and presents a limited set of characters with (hopefully) more purpose than just being yet another victim. We'll see when The Last Showing hits VOD on September 23 and Blu-ray/DVD on October 28.
The Possession of Michael King Trailer is…Okay
Okay, so it's been a pretty slow week in horror news, with remake announcements held to a minimum and only the indie scene making any waves. Thus, the trailer for The Possession of Michael King, yet another movie that combines the "tired as a million pre-hibernating bears" sub-genres of found-footage flicks and possession horrors. Because I'm a miserable old sod, I'll watch almost any found-footage movie that comes out, but I'm sick to scab-inflicted death of possession movies. So I have no idea what to do when The Possession of Michael King hits VOD and store shelves on August 26th. (It will have a limited theatrical run on August 22nd.)
The plot here is pretty simple. Shane Johnson (Power) plays the titular Michael King, an atheist documentary filmmaker who uses his wife's death as an impetus to create a doc about either proving or disproving supernatural events, whichever comes first. And of course, by allowing himself to enter the words of so many different kinds of paranormal and religious believers, he becomes the stomping ground for a purely evil force. And it's all being recorded. The feature debut for writer/director David Jung, The Possession of Michael King looks like Grave Encounters mixed with every exorcism movie of the last ten years. And fuck it, I'll watch it.
The Expedition Trailer
If you hated the last trailer, then you may have a few sizeable problems with the trailer for Adam Spinks' The Expedition, another found-footage thriller that trades in demonic possession for dinosaur hunting. In other words, it's PERFECT. Or not. Whatever. You can't tell me this flick won't go great with a massive amount of bourbon and a big old bud of T-Rex.
Basically, a conservationist team led by Professor John Howson (Ben Loyd-Holmes) head out into the Amazon rainforest, but instead of saving anything, they become the hunted. What's hunting them? Fuckin' dinosaurs, bro. The killing kind. They've apparently been hiding out somewhere, evolving into even more terrifying beasts than anything The Land Before Time ever showed us. I rather enjoyed the choppy approach the trailer brings, and I think I may have cheered whenever they showed a dinosaur for the first time. Actual thought: "No one is going to top the tent scene from Willow Creek, so why are they even…DINOSAUR! DINOSAUR!!" For now, The Expedition only has a release date in the U.K. (October 10th), but we can probably expect to see it hitting U.S. VOD around the same era. The Jurassic era!
Your Daily Blend of Entertainment News
Assistant Managing Editor
Nick is a Cajun Country native, and is often asked why he doesn't sound like that's the case. His love for his wife and daughters is almost equaled by his love of gasp-for-breath laughter and gasp-for-breath horror. A lifetime spent in the vicinity of a television screen led to his current dream job, as well as his knowledge of too many TV themes and ad jingles.
Your Daily Blend of Entertainment News
Thank you for signing up to CinemaBlend. You will receive a verification email shortly.
There was a problem. Please refresh the page and try again.